FTSE resumes fall as RBS results knock confidence
Comments
By Reuters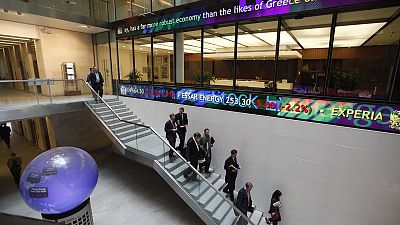 -
LONDON (Reuters) – UK shares fell by more than 1 percent on Friday as disappointing U.S. and European results stirred concern about slowing corporate growth, with RBS hitting February 2017 lows and the defence sector knocked by Saudi tensions.
The FTSE 100 was down 1.4 percent by 0824 GMT, with only six stocks in positive territory after the first hour of trading. Financials led the pack lower with a 22-point drop, followed by the energy sector on weaker oil prices and a higher U.S. dollar.
The Midcap FTSE 250, set for a fifth straight weekly loss, was down 1 percent. Both indices are on track for their worst monthly performance since the world financial crisis a decade ago.
Pan European stocks <.STOXX> were set for their biggest monthly drop since August 2015.
A slew of downbeat corporate outlooks with warnings of higher raw material costs, damage from tariffs and waning Chinese demand underscored worries about corporate growth.
Analysts have been downgrading their forecasts for European earnings at their fastest pace since 2016, according to Refinitiv IBES data.
"There aren't many more lifelines for FTSE heavyweight sectors, with base metals down on China-growth worries and oil still in the doldrums on perceived weak demand," Mike van Dulken and Artjom Hatsaturjants at Accendo Markets said in a note.
A Bloomberg report that British Prime Minister Theresa May's cabinet is not close enough to agreeing a way forward for top level Brexit negotiations to resume added further uncertainty to UK markets.
RBS <RBS.L> fell 4.3 percent, touching its lowest since February 2017, after the UK bank warned of economic uncertainty and its profit lagged forecasts. The lender said it had taken a 100 million pound impairment provision to account for greater uncertainty.
The latest results are a bit of a curate's egg," said Laith Khalaf, senior analyst at Hargreaves Lansdown. "The headline numbers are ahead of expectations, but this is largely a matter of one-off items toppling onto the right side of the scales.
"The core business is looking pretty stagnant, at best, and the bank's interest margin is heading in the wrong direction, despite rising rates," Khalaf added.
Defence companies BAE Systems <BAES.L> and Rolls Royce <RR.L> were down 2.2 percent and 2.5 percent respectively on growing calls for Europe to halt arms sales to Saudi Arabia after the killing of journalist Jamal Khashoggi.
Mining, metals and oil companies were also among the biggest losers, with BP <BP.L>, BHP Billiton <BLT.L> and Evraz <EVRE.L> down 2.5 percent, 2.2 percent and 5.3 percent respectively tracking broader commodity prices lower.
Among midcaps, Travis Perkins <TPK.L> and Babcock <BAB.L> were hit after LafargeHolcim's <LHN.S>, the world's largest cement maker, became the latest building materials company to warn of higher costs.
(Reporting by Josephine Mason; Editing by Mark Heinrich)