Britain primed to trim gilt issuance plans: primary dealers
Comments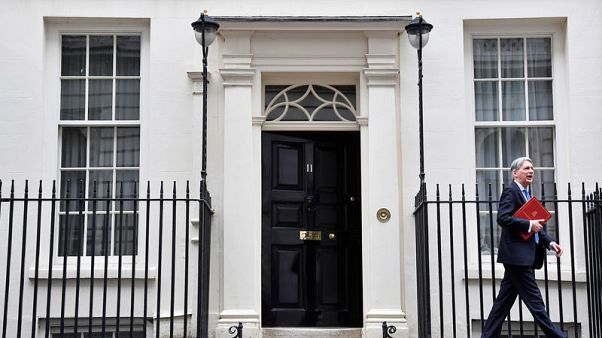 -
By Andy Bruce
LONDON (Reuters) – Britain looks likely to trim the amount of government bonds it plans to issue this financial year thanks to better-than-expected public borrowing figures, according to a Reuters poll of primary dealers ahead of Monday's budget.
With only five months to go until Brexit and no agreement yet between London and Brussels, most analysts think finance minister Philip Hammond will take a cautious approach to his budget plans.
Still, stronger-than-expected tax receipts in the current financial year, 2018/19, have provided some leeway with the public finances, should he choose to use it.
The Office for Budget Responsibility is expected to cut on Monday its forecast for Britain's 2018/19 budget deficit to around 31.7 billion pounds ($40.53 billion) from 37.1 billion pounds, according to the median forecast in Friday's poll of primary dealers.
Primary dealers are banks that buy gilts directly from the government to sell them on, helping to create a liquid market.
The smaller profile for borrowing this year means the Debt Management Office (DMO) could in turn trim its planned issuance of gilts for 2018/19 to 101 billion pounds from the 106 billion pounds it forecast in April, the Reuters poll showed.
That would be the smallest volume of gilts issued since 2007/08, before the global financial crisis tipped Britain into recession.
The fall, however, may prove to be a low watermark ahead of some difficult years.
"Stronger-than-forecast public finances should lead to the DMO being 8 billion pounds ahead of their remit this year, but issuance is likely to pick up thereafter," Deutsche Bank analysts said in a note to clients.
The ageing of the population will pressure public finances in the years ahead even before considering Brexit's impact on economic growth, according to the OBR.
A couple of forecasters said the DMO may leave its gilt issuance remit for this year unchanged, building up some over-funding ahead of a trickier 2019/20.
The forecasts pointed to a substantial increase in gilt issuance in the financial year starting next April — after Brexit is due to occur — to above 131 billion pounds.
That partly reflects Prime Minister Theresa May's promise of higher health spending, which will add 20 billion pounds to the National Health Service budget by 2023/24.
Most analysts said they did not expect Monday's budget to ruffle fixed income investors too much.
"This budget is unlikely to be a market mover unless, perhaps, it becomes part of Brexit-related political gamesmanship," Citi rates strategist Jamie Searle said.
Gilt yields have been driven lower lately, mostly by Brexit worries but also by ructions in the euro zone, where Italy is attempting to pass a budget that flouts the European Union's fiscal rules.
On Friday, the 10-year benchmark gilt yield <GB10YT=RR> struck its lowest since Sept. 4 at 1.409 percent.
Thirteen of 15 primary dealers polled by Reuters provided forecasts for government borrowing, and 12 gave forecasts for gilt issuance.
2018/19 FISCALFORECASTS
(all figures in bln stg)
Public Gilt T-bills Gross
sector net issuance (net) financing
borrowing (gross) requirement
(ex-banks)
MEDIAN 31.7 101.0 0 105.0
MEAN 30.2 101.5 -1.1 106.0
MAX 37.1 106.0 4.6 116.6
MIN 23.7 98.0 -9.0 100.9
COUNT 13 12 10 9
Barclays 33.0 102.5 -4.0
BNP Paribas 32.0 101.0 0.0 107.0
Citi 31.7 99.4 0.0 109.4
Deutsche Bank 34.2 102.9 104.0
Goldman Sachs 24.1
HSBC 37.1 106.0 4.6 116.6
JPMorgan 24.0
Lloyds 29.0 99.0 0.0 105.0
Morgan Stanley 23.7 106.0 0.0 100.9
NatWest Markets 34.0 98.2 0.0 104.2
Nomura 98.0 -3.0
RBC 30.8 99.6 0.0 105.6
Santander 26.7 104.6 -9.0 101.6
UBS 32.0 101.0
($1 = 0.7820 pounds)
(Reporting by Andy Bruce)
euronews provides breaking news articles from reuters as a service to its readers, but does not edit the articles it publishes. Articles appear on euronews.com for a limited time.