Italian families, firms feel heat of rising bank loan costs
Comments
By Reuters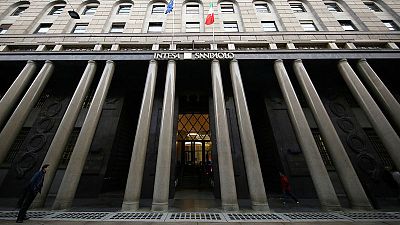 -
By Valentina Za, Andrea Mandala and Giulio Piovaccari
MILAN (Reuters) – Italy's banks are charging households and businesses more to borrow after a fall in the value of the country's bonds, the first sign of a credit tightening that could disrupt the populist government's economic revival plans.
Investors have been dumping Italian assets since the formation in June of a coalition government whose draft 2019 budget plan this month prompted Moody's to cut Italy's credit rating and the European Commission to demand a revision.
Data reviewed by Reuters shows interest rates on mortgages and loans are creeping higher, while some firms say banks are demanding repayment as falling government bond prices eat into their capital and rising yields lift funding costs.
This has rung alarm bells in Rome and beyond, with Italian Economy Minister Giovanni Tria saying that current bond yields, which are near a 4-1/2 year high on the benchmark 10-year maturity, could not be sustained for long because of the threat to weaker banks.
Meanwhile, Italy, as the euro zone's third-largest economy, is seen as crucial to the wider stability of the currency bloc because it is widely regarded as too big to be rescued.
European Central Bank (ECB) President Mario Draghi said on Thursday Italian banks' woes were bound to affect lending terms though the rise in loan rates was still moderate.
But in the longer-term, higher borrowing costs could dent support for the populist government, which is riding high in opinion polls and has included a "citizens' salary" for poorer Italians in the budget as part of its plan to help the economy.
Meanwhile, the interest rate on some fixed-rate mortgages – by far the most common type in Italy – increased by as much as 20 basis points in the first 10 days of October, Ivano Cresto, of price-comparison website Facile.it, said.
That partly reflects a rise in the benchmark rate for such mortgages – set at a European level – but also the so-called spread banks apply on top to offset higher funding costs, banking sources told Reuters. https://tmsnrt.rs/2Rd61IB
Italy's top two banks, Intesa Sanpaolo <ISP.MI> and UniCredit <CRDI.MI>, both said they had raised the cost of fixed-rate mortgages after the summer by up to 20 basis points.
"Intesa and UniCredit have often proved to be first movers in the mortgage market," said Roberto Anedda, head of marketing at mortgage data website MutuiOnline.it.
RUSH TO BUY
Worried about further rate rises, some people are rushing to buy properties even if it means allowing the seller to continue to live there for a period after the purchase, bank staff said.
A 20 bp interest rate increase would add up to 2,800 euros in payments to an average mortgage of around 124,000 euros over 20 years, the most common duration, Reuters calculations based on MutuiOnline data show.
Italy's ABI banking association declined to comment, although a spokesman pointed to its data for September, before the budget was presented, which showed the average rate on new home mortgages and corporate loans edging lower.
Although central bank liquidity has shielded Italian banks from the full impact of rising rates, the ECB has begun unwinding its ultra-loose monetary policy.
"The (transmission) chain is long," a top executive at an Italian bank said, referring to the mechanism through which higher funding costs for banks lead to pricier loans and shrinking capital buffers curtail their lending capacity.
"But we're beginning to witness the first signs," he added.
Businesses are also starting to feel the heat and the Bank of Italy has said companies surveyed in September had signalled a slight worsening in credit conditions.
"We haven't closed any important credit lines recently, but the banks say they would charge an extra 80-100 basis points on 10-year loans compared to levels we'd been discussing at the start of the summer," Fabio Pezzani, head of finance at GVM Care & Research, a healthcare group based near Ravenna, told Reuters.
Pezzani said the increase on short-term funding was limited to an extra 10-15 basis points in the spread over the benchmark.
"For the time being, I think it's just a matter of a higher cost of funding … from next year, I fear we'll also have a problem of … tighter credit offer," Pezzani said.
SELECTIVELOANS
During the euro zone crisis of 2011-2012, when bank liquidity dried up and Italian government bond yields topped 7 percent, a credit crunch exacerbated a recession that wiped out a quarter of Italy's industrial output.
A person in charge of corporate lending at a local bank in southern Italy, where default rates are higher, said they had considered raising loan rates charged to firms by 200 basis points this month.
The owner of a small fruit and vegetable business from Italy's southern Apulia region said that he had been forced to repay an up to 80,000 euro overdraft.
"They said they no longer wanted to support an agricultural business because it is seasonal," he told Reuters.
"But I insisted, and said I had always paid regularly, so eventually they told me markets were bad with bond yields rising and the outlook for the next few months so unpredictable … that they had to take precautions."
Corporate lending, which shrank steadily between mid-2012 and mid-2016, has recovered moderately since but banks have become more selective after they saw nearly a fifth of their loans turn sour in the last recession.
"Banks' concerns over souring loans are one of the main reasons small firms see their credit curtailed or altogether revoked," said Antonio Pinto, a lawyer with consumer association Confconsumatori.
(Additional reporting by Riccardo Bastianello in Padua, Paola Arosio and Gianluca Semeraro in Milan; Graphic by Abhinav Ramnarayan; Editing by Silvia Aloisi and Alexander Smith)