AB InBev told Indian authorities about cartel, triggering anti-trust probe
Comments
By Reuters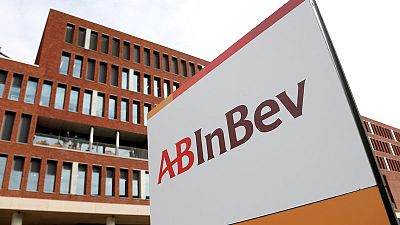 -
By Aditya Kalra
NEWDELHI (Reuters) – An Indian anti-trust probe into beer price-fixing allegations was initiated after the world's largest brewer Anheuser-Busch InBev told the authorities last year it had detected an industry cartel, three people familiar with the matter told Reuters.
AB InBev discovered the Indian operations it acquired as part of its around $100 billion acquisition of London-listed rival SABMiller Plc in 2016 had for years fixed beer prices along with Denmark's Carlsberg and India's United Breweries, which is part-owned by Heineken NV, the sources said.
AB InBev conducted an internal investigation in the first half of last year, after closing the SABMiller deal, and found that executives had discussed and agreed on their submission of ex-brewery beer production prices to Indian state governments. Those ex-brewery prices would include all the production and marketing costs, as well as a proposed profit margin, and were used by state governments to set a maximum retail price.
"It was startling," one of the sources said. "Extensive pricing information about the competition, some of which is extremely confidential, was available to all the three companies."
Earlier this month the Competition Commission of India (CCI) raided the offices of all the three brewers and found e-mails that showed executives were allegedly violating Indian anti-trust laws, Reuters has previously reported.
According to the three sources, those raids came after AB InBev approached the anti-trust watchdog to make disclosures under a so-called "leniency programme" that provides a whistleblower-type protection for cartel members disclosing wrongdoing.
Sudhir Mittal, chairman of the CCI, did not respond to a request for comment.
A spokesman for AB InBev, whose Indian offerings include Budweiser and Corona, said "it would not be appropriate for us to comment" for this article. Carlsberg, which sells beer under its own-name brand and also owns Tuborg, said it was "committed to complying" with all relevant laws.
United Breweries, which commands a 51 percent share of the Indian market and sells the Kingfisher and Heineken beer brands in India, did not respond to an e-mail seeking comment. Heineken declined to comment.
Calls to Shalabh Seth, the managing director of SABMiller in India at the time of the AB InBev acquisition, went unanswered. He now works for United Breweries.
After Reuters reported the CCI raids on Oct. 11, United Breweries told the Indian stock exchanges the company took its compliance obligations seriously and was reviewing its legal risks and potential implications.
Belgium-based AB InBev has said it takes anti-trust compliance "very seriously".
The three brewers, who according to Euromonitor International account for 90 percent of beer consumption in the $7 billion India market, together face a potential fine of up to $272 million if they are found to have operated a cartel, the sources said. Any company executives found to have fixed prices could also be fined.
AB InBev could escape some or all of its share of the fines for self-reporting the issue.
It was unclear how much the alleged price-fixing may have cost consumers.
HIGHLY-REGULATEDMARKET
The investigation will cast a further shadow on an Indian beer business that already faces stringent compliance and state-level regulation, making it tougher for brewers to expand.
Though a young and affluent population, better social acceptance towards drinking and a growing pub culture have spurred beer consumption, many Indian drinkers still prefer potent spirits, particularly whisky, especially in smaller towns and villages.
Most states individually regulate alcohol pricing and the companies need to submit and get prices approved every year by the local authorities. There are also separate labelling, licensing and brand registration norms.
The ex-brewery prices set by the companies are also the base on which alcohol taxes, a vital source of state government revenue, are imposed.
That results in wild variations in retail prices. A 330 ml bottle of Kingfisher costs 36 rupees (49 cents) in the tourist state of Goa, but 130 rupees ($1.77) in the northern state of Haryana, a major industrial hub, according to India's largest beer chain, the Beer Cafe.
RAREDAWNRAIDS
As part of its investigation, the CCI secured permission from a Delhi district judge to conduct search and seizure operations at the brewers' offices, only the third such raids in the watchdog's near 10-year history.
The dawn raids were conducted in two Indian cities – Bengaluru, previously known as Bangalore, in southern India and Gurugram, near the capital New Delhi – by dozens of officers and technology experts, five sources with knowledge of the probe said.
Over two days, senior company officials were questioned about pricing, their computer hard-disks copied and mobile phones cloned to analyse communications over WhatsApp.
One source gave an example of an e-mail that showed the companies were exchanging notes on their successes on achieving better prices in a particular state, and how that model can be replicated. The source described the communication as a "brazen" anti-trust violation.
Reuters has not been able to independently verify the contents of any e-mails.
The watchdog suspects price-fixing in at least four Indian states, one of the sources said. The CCI's investigation unit will further question company executives and analyse the seized evidence before making penalty recommendations in a report, which will be reviewed by commission members in a process that could take up to 12 months.
The Indian probe is the latest anti-trust headache for global brewers. Last year, the European Commission accused AB InBev of abusing its market dominance in Belgium by impeding the flow of cheaper imports into the country. In 2014, a German regulator fined Carlsberg and smaller brewers for colluding on prices.
"BAFFLING" MARKET
The brewers are already facing an uphill struggle in India.
An executive who has formerly worked for a foreign brewer in India said local governments were reluctant to allow price increases, fearing they would impact consumer purchases and, in turn, their tax revenues.
"There is nobody making margins here other than the governments, they want to maximize their revenue," the executive said.
Beyond pricing issues, sudden policy changes can also hit brewers. In 2016, India's Supreme Court banned liquor sales within 500 meters of highways and the same year the eastern state of Bihar banned alcohol.
Three other Indian states and one federally-controlled island territory also ban or restrict alcohol sales.
For Carlsberg, the Bihar state ban came just two years after the company opened a new brewery there. At the time, its then country head, Michael Jensen, said India was the "most difficult market in the world but you can't do stuff like that … It is very detrimental for investor confidence".
Top brewers also face a challenge from the growing popularity of premium segment craft beers. Sequoia Capital-backed B9 Beverages' "Bira 91" brand and a start-up brand "Simba" have lured drinkers with quirky branding and lighter brews.
Simba clocked sales of $10.2 million last year and is targeting a doubling this year, but could have grown at a faster pace if not for the stringent and varied state government regulations, its founder Prabhtej Singh Bhatia told Reuters.
Bhatia said his working capital requirements have often been strained by varied state policies – in Goa, for example, he said registration of a new beer brand costs $328, compared with $20,500 in Delhi.
"The market is very challenging, it's baffling," Bhatia said.
(Reporting by Aditya Kalra; Additional reporting by Alasdair Pal and Aditi Shah in New Delhi, Abhirup Roy in Mumbai and Gaurav Dogra in Bengaluru; Editing by Martin Howell and Alex Richardson)