Italy's Salvini says there is no government crisis over tax amnesty row
Comments
By Reuters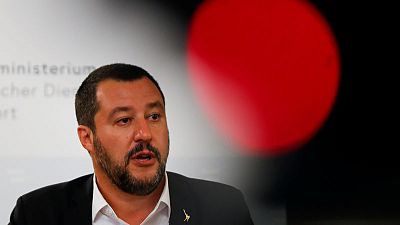 -
MILAN (Reuters) – Italy's Deputy Prime Minister Matteo Salvini said there was no government crisis after a row broke out in the ruling coalition over a tax amnesty draft bill, Il Messaggero said on Friday citing Salvini.
But Salvini, who is also leader of the right-wing League party, said the decree containing the proposal had to stay as it was if they did not want to create a dangerous precedent.
On Friday, the head of Italy's anti-establishment 5-Star Movement, Luigi Di Maio, said a dispute with coalition partner the League over a tax amnesty needed to be sorted.
Di Maio, also deputy prime minister, said on Wednesday the text of the amnesty had been "manipulated" after his party had signed off on the measure in cabinet, raising doubts about the stability of the coalition government.
The populist 5-Star and League coalition took office at the beginning of June.
"We will press ahead. And there is absolutely no government crisis," Salvini was quoted by Il Messaggero as saying.
Salvini said changing the text would send the message that everything could be changed and that "everything is a joke".
But he described the run-in with Di Maio as just "a big misunderstanding".
While 5 Star has always opposed amnesties, the right-wing League, with its traditional voter-base of self-employed businessmen, is more favourable.
Giancarlo Giorgetti, a cabinet undersecretary and high-ranking League official, told La Repubblica that 5 Star had not told them or Prime Minister Giuseppe Conte of their concerns before going public.
"We fully intend to press ahead with the government but if they continue to see conspiracies at every turn we're not there," Giorgetti said.
(Reporting by Stephen Jewkes, editing by Giselda Vagnoni)