Flow of LME nickel to hidden storage dents bull story
Comments
By Reuters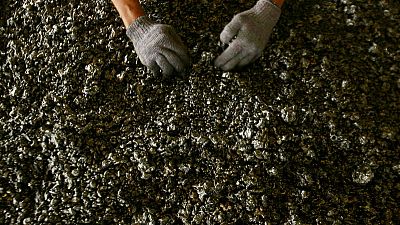 -
By Eric Onstad
LONDON (Reuters) – The bulk of nickel moving out of London Metal Exchange-approved warehouses in Asia is showing up in hidden facilities in Europe, analysts said, denting a bullish scenario of potential shortages.
LME nickel stocks have shrunk by about 40 percent this year, largely from warehouses in Malaysia, Taiwan and Singapore, but much of that metal is not being consumed, industry sources and analysts said.
Nickel is mainly used to make stainless steel, but forecasts show that more will be needed for electric vehicle batteries in coming years.
It has been the LME's top performer this year and prices were up 25 percent in June, before the wider market was hit by macroeconomic worries.
(LME Nickel Inventories and Prices: https://tmsnrt.rs/2Ovnxei)
Some investors have been bullish about the sharply lower inventories, arguing that deficits and strong consumption were finally cutting stockpiles and raising prospects for shortages.
But trade data shows that much of the nickel departing Asia is arriving in the Netherlands, a warehousing centre with both LME depots and non-registered ones with cheaper rental rates.
"Some people are taking a bullish tone from the draw in stocks, but you shouldn't be 100 percent bullish about the stocks draw if you look at where the stock is travelling," said Macquarie analyst Vivienne Lloyd.
"Europe is not such a big nickel consumer that it would suddenly need such a large stocks draw from the LME Asian warehouses. So it seems more likely to point to stocking behaviour in Europe."
During the first seven months of the year 39,358 tonnes of unwrought nickel was exported from Malaysia to the Netherlands, compared with 1,167 tonnes in the same period last year, according to data from the International Nickel Study Group.
(Nickel Imports to Netherlands from Asia: https://tmsnrt.rs/2OzE1lM)
"It's not just Malaysia. You've seen significant volumes of material move from Singapore and Taiwan to Europe," said BMO Capital Markets analyst Colin Hamilton. "I think this is material being locked into financing deals."
Under a financing deal, an investor sells the metal in advance when the futures market show a higher price for forward dates and keeps the metal in storage during the interim.
A banker involved in base metals trading confirmed that nickel was moving from Asia to Europe and added that his nickel financing book had grown bigger than that for aluminium, traditionally the prime metal in financing deals.
(Above Ground Nickel Inventory: https://tmsnrt.rs/2OApG8w)
BMO Capital's Hamilton estimates that 465,000 tonnes of nickel is stored in hidden, or non-exchange, warehouses. That is nearly double the 235,019 tonnes in warehouses linked to futures exchanges for which data is available.
Hamilton expects nickel to end the year close to current prices, while Macquarie's Lloyd sees it rising to an average of about $14,000 a tonne in the fourth quarter.
LME three-month nickel <CMNI3> closed on Thursday at $12,350 a tonne.
(Reporting by Eric Onstad; Editing by David Goodman)