Fed minutes, supply push up euro zone bond yields
Comments
By Reuters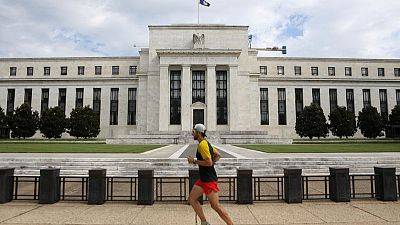 -
By Dhara Ranasinghe
LONDON (Reuters) – Government bond yields across the euro area rose on Thursday, pushed up by hints of more rate hikes from the U.S. Federal Reserve and in anticipation of a wave of fresh supply from France, Spain and Italy.
The bond sell off was led by Italy, with the gap between 10-year bond yields and German peers moving back towards five-year highs seen last week at around 315 basis points.
The U.S. central bank is largely united on the need to raise borrowing costs further, minutes released on Wednesday from the Fed's September meeting showed.
Every Fed policymaker backed the September decision to raise the target policy rate to between 2 percent and 2.25 percent, according to the minutes.
That pushed up U.S. Treasury yields, setting the tone for the start of European trade with bond investors also positioning for new supply.
Spain sold 4.5 billion euros of debt at auction on Thursday while France raised some 8 billion euros from the sale of new government bonds along with 1.7 billion euros from inflation linked bonds.
Italy is in the process of an exchange auction — tapping five nominal bonds in exchange for its April 2020 BTP Italia retail linker — and had taken orders of more than 7 billion euros. [nS8N1WV00F]
Lyn Graham Taylor, a rates strategist at Rabobank, said that the deals looked to have gone well, though he cautioned against reading too much about the state of the market from these auctions.
Ten-year bond yields across the bloc rose 1-4 bps.
(US/German bond-yield gap at widest in 30 years: https://tmsnrt.rs/2Oz8sIP)
Germany's 10-year Bund yield was up 1.5 bp at 0.475 percent <DE10YT=RR>, up from Wednesday's two-week low at 0.45 percent.
Two-year German yields <DE2YT=RR> hovered near six-week lows and with their U.S. peers <US2YT=RR> trading higher a day after the hawkish Fed minutes, the gap between the two held close to its widest in 30 years.
Italy's bond market, which showed signs of some recovery earlier in the week, was on the back foot again.
Italy's prime minister on Thursday denied any division between the two parties in his governing coalition, after reports of a spat over tax revenues, as European leaders raised concerns about Rome's budget.
Italian 10-year bond yields were four bps higher at at 3.58 percent <IT10YT=RR>. Five-year Italian bond yields were up five bps to 3.01 pct. The Italian/German 10-year bond yield spread hovered near to its highest since October 9 at 310 bps.
(Editing by Matthew Mpoke Bigg)