Eurogroup chief says euro zone will cope with Italy's draft budget
Comments
By Reuters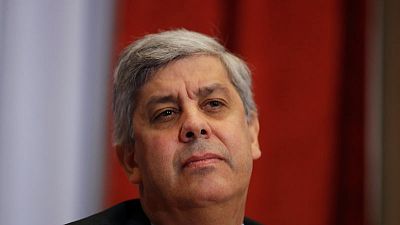 -
BRUSSELS (Reuters) – The euro zone has shown great resilience during the sovereign debt crisis and will be able also to cope with the draft budgetary plan of Italy, the chairman of euro zone finance ministers Mario Centeno said on Thursday.
On Monday, Italy sent to the European Commission its draft budget assumptions for 2019 under which its headline budget deficit is to rise to 2.4 percent of GDP, tripling the target agreed on with the Commission by the previous government.
Euro zone officials worry that increased borrowing by Italy, which has the second highest debt to GDP ratio in Europe at 133 percent, could trigger another sovereign debt crisis like the one started by Greece in 2010.
Speaking before an EU summit, Centeno said Italy's budget plans were not on the agenda, and would be dealt with by the Commission and euro zone finance ministers in due time.
"In the last decade the euro showed a great deal of resilience to deal with crises and I am sure that we will be able to cope with the budgetary plans in the different member states, and certainly also with Italy," Centeno said.
(Reporting By Jan Strupczewski and Daphne Psaledakis; editing by Philip Blenkinsop)