Busy as a Jollibee - Asia's fast-food giant expands abroad
Comments
By Reuters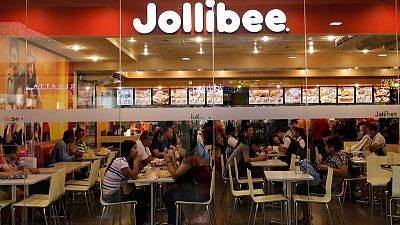 -
By Martinne Geller
LONDON (Reuters) – Jollibee Foods <JFC.PS>, a major Asian fast-food operator, hopes to generate half its sales outside its home market of the Philippines within five to seven years, up from 30 percent now, its chief executive told Reuters.
It also hopes to double its revenue in five years, as it expands its own chains and buys others, at a time when dealmaking in the restaurant sector is heating up as increasing competition and costs fuel consolidation.
Earlier this year, Coca-Cola <KO.N> agreed to buy Costa Coffee and JAB Holdings bought Pret a Manger, which Jollibee also considered.
More recently, Restaurant Brands New Zealand <RBD.NZ> said it was in takeover talks, TGI Friday's UK went on the block and sources said Bojangles <BOJA.O> was exploring a possible sale.
"There are a lot of discussions going on, but only a few end up with final negotiations," CEO Ernesto Tanmantiong said in an interview on Thursday, ahead of the weekend opening of its first British Jollibee fried chicken restaurant in London.
Tanmantiong said he was open to strategic acquisitions, adding the size didn't matter, as long as targets were fast-food or fast-casual restaurants, offered a superior product and had scope to scale up.
The company, which has a market value of more than $5 billion, already has 4300 stores under 14 brands in 20 countries. It operates Burger King stores in the Philippines, Dunkin Donuts <DNKN.O> in China and Highlands Coffee in Vietnam and is the majority owner of Smashburger in the U.S.
Growth in China and the United States is key, Tanmantiong said. "We intend to replicate what we did in the Philippines by having multiple brands in China and the USA," he said.
The company last month entered into a venture with US chef Rick Bayless to build a Mexican chain.
China already accounts for 10 percent of group sales, through Dunkin and its two local brands. There are currently no Jollibee restaurants in China, where rival KFC <YUMC.N> is very strong, but Tanmantiong sees its locations in Hong Kong and Macau as a gateway to the mainland.
GROWINGORGANICALLY
Over the next five years the Jollibee chain, which began as an ice cream parlour in Manila, will expand in Europe, the United States and Asia.
A Manhattan Jollibee, New York City's second, will open later this month, followed by one in Malaysia by the end of the year and one in Indonesia by 2020.
Overall, Jollibee expects to have 50 stores in Europe over the next five years, half of them in Britain.
"It has a big Filipino population and it has a big fried chicken market," Tanmantiong said.
Jollibee has 41 stores in North America, the bulk of which are in the United States. Within five years, it expects this to balloon to 150 in the US and 100 in Canada.
The company is planning a stock market listing next summer of its Vietnamese coffee business, but Tanmantiong said no other of its businesses were currently ripe for a listing.
(Editing by Alexandra Hudson)