Energy drives up euro zone inflation in September, core edges lower
Comments
By Reuters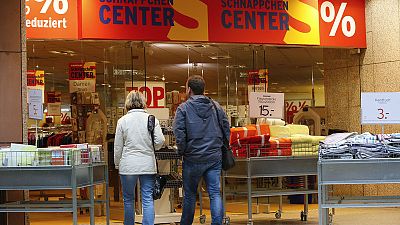 -
BRUSSELS (Reuters) – Euro zone inflation accelerated in September in line with market expectations, driven mainly by a spike in energy prices, but core inflation, which excludes energy and unprocessed food costs, edged lower, data showed on Wednesday.
The European Union's statistics office Eurostat said consumer prices in the 19 countries sharing the euro rose 0.5 percent month-on-month in September for a 2.1 percent year-on-year rise, matching expectations of economists polled by Reuters.
Energy prices were the biggest single contributor to the year-on-year gain, adding 0.9 point to the overall outcome. Services added 0.57 point and food , alcohol and tobacco added 0.51 point.
Excluding the volatile energy and unprocessed food prices, in what the European Central Bank calls core inflation, prices grew 0.3 percent month-on-month for a 1.1 percent year-on-year gain, slowing from 1.2 percent in August and 1.3 percent in July.
The ECB wants to keep the headline inflation number below, but close to 2 percent over a two-year horizon and is planning to stop at the end of the year a programme of purchases of government bonds on the secondary market which was designed to boost inflation closer to the target.
(Reporting By Jan Strupczewski)