Japan manufacturers' mood rises, trade worries weigh on outlook - Reuters Tankan
Comments
By Reuters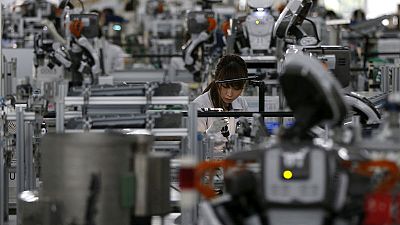 -
By Tetsushi Kajimoto
TOKYO (Reuters) – Confidence among Japanese manufacturers rose in October from September and is expected to remain flat over the coming three months, a Reuters poll found, suggesting caution over the effect of global trade frictions on the economic outlook.
The monthly poll, which tracks the Bank of Japan's (BOJ) closely watched tankan quarterly survey, found non-manufacturers confidence sliding to its lowest in nearly two years as recent natural disasters hit consumers and some firms hard.
But the Reuters Tankan showed non-manufacturers' mood was expected to recover, endorsing market views that a hit from natural disasters should be temporary, although external risks to the outlook are mounting.
The sentiment index for manufacturers stood at 28, up two points from the previous month, led by metal products/machinery and textiles/paper, according to the survey taken Sept 27 to Oct 10. The index was seen to stay flat in January.
In the poll of 282 large- and mid-sized firms, in which 252 firms responded on condition of anonymity, managers complained about global trade tensions, rising raw materials prices and difficulty of passing on costs due to weak private consumption.
"Exchanges of hefty tariffs between the United States and China have raised input costs at our U.S. operations," a manager of a transport equipment firm wrote in the survey.
"The direct impact has been small at present but the future remains uncertain as we may need to shift production, depending on whether the United States will impose heavy tariffs against its imports from Japan."
The non-manufacturers' index tumbled to 24 in October from 33 in the previous month, dragged down by the transport/utility and retail/wholesale sectors. The index was expected to bounce to 29 in January.
The BOJ's last tankan showed this month sentiment at big manufacturers soured in the September quarter to hit the lowest level in nearly a year, as firms faced rising raw material costs and a string of natural disasters that disrupted production.
The central bank's survey suggested that the spectre of a full-blown global trade war weighed on companies' business outlook.
The International Monetary Fund this month cut Japan's economic growth forecast for 2018, warning that the country faced increased risks from uncertainty over global trade and the impact of a sales tax hike planned for next year.
The Reuters Tankan indexes are calculated by subtracting the percentage of pessimistic respondents from optimistic ones. A negative figure means pessimists outnumber optimists.
(Reporting by Tetsushi Kajimoto; editing by Eric Meijer)