JPMorgan's consumer banking strength offsets bond trading weakness
Comments
By Reuters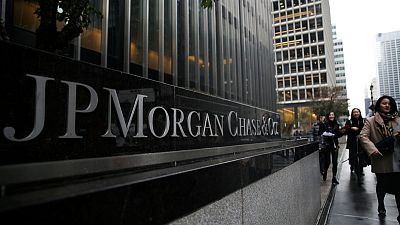 -
By Sweta Singh and David Henry
(Reuters) – JPMorgan Chase & Co <JPM.N> reported a better-than-expected quarterly profit on Friday as gains from higher interest rates and growth in loans helped the bank offset weakness in bond trading revenue.
The largest U.S. bank by assets, whose results are often seen as a barometer of the economy, has benefited from a tax windfall and a strong economy that has led to higher interest rates and kept loan defaults in check.
All four of JPMorgan's four main businesses recorded a rise in revenue, with consumer banking posting the biggest jump, as the lender's diverse business mix helped it weather the ups and downs of its trading business.
Chief Executive Jamie Dimon praised President Donald Trump's tax cuts and deregulatory efforts, but said increasing geopolitical uncertainties could hurt the economy in the future.
"The U.S. and the global economy continue to show strength, despite increasing economic and geopolitical uncertainties, which at some point in the future may have negative effects on the economy," Dimon said.
JPMorgan's shares rose 1.3 percent before the opening bell. Worries about lacklustre trading and weak loan growth have weighed on bank stocks this year, with the S&P Financial index <.SPSY> falling about 5 percent and underperforming the broader S&P 500 index <.SPX>.
JPMorgan is the best performing stock among the big six U.S. banks. Including losses from the market carnage over the past two days that saw the Dow Jones Industrial Average <.DJI> drop more than 1,300 points, the stock is the only one in positive territory for the year.
The bank's average core loans were up 6 percent in the third quarter even as higher rates crimped borrowing in areas such as mortgage loans.
Markets and investor services revenue, which includes revenue from trading bonds and stocks, was up just 1 percent, amid an escalating trade war between Beijing and Washington and worries about slowing global growth. Bond trading revenue fell 10 percent, while revenue from equity trading was up 17 percent.
The bank's total revenue rose 5.2 percent to $27.82 billion. Net income rose 24.5 percent to $8.38 billion, or $2.34 per share. Analysts had expected earnings of $2.25 per share, according to I/B/E/S data from Refinitiv.
Net interest income rose 7 percent to $14.1 billion as the U.S. Federal Reserve raised rates four times since the third quarter of last year, bringing it to 2.25 percent.
JPMorgan's non-interest expenses were $15.6 billion, up 7.2 percent. Analysts had expected about $15.7 billion of expenses in the quarter.
Operating costs have risen across the industry as banks are spending more on technology and expanding their business amid a strengthening economy.
Smaller rivals Citigroup Inc <C.N> and Wells Fargo <WFC.N> are also scheduled to report quarterly results later in the day.
(Reporting by Sweta Singh in Bengaluru and David Henry in New York; Editing by Saumyadeb Chakrabarty)