IMF chief defends Powell after Trump slams 'crazy' Fed
Comments
By Reuters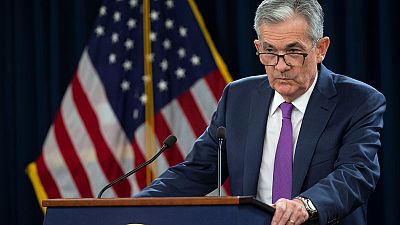 -
(Reuters) – The head of the International Monetary Fund on Thursday defended Federal Reserve Chairman Jerome Powell one day after U.S. President Donald Trump criticized the American central bank, which has been raising U.S. interest rates, as "crazy."
"I wouldn't associate Jay Powell with craziness," Managing Director Christine Lagarde told CNBC in an interview. "He comes across – and members of his board – as extremely serious, solid and certainly keen to base their decisions on actual information."
Trump made the comment in response to Wall Street's sell-off after the S&P 500 and the Dow marked their worst losses in eight months. The slump triggered a surge of global selling that sent European stocks to a more than an 18-month low on Thursday and knocked down Asian shares.
Worries about higher borrowing costs have sparked the U.S. stock sales in recent days, while a spike in U.S. Treasury yields and solid U.S. economic data have raised concerns that the Fed may pick up the pace of its interest rate hikes.
"Actually it's a correction that we've been waiting for a long time, but I really disagree with what the Fed is doing," Trump told reporters on Wednesday.
"I think … the Fed is making a mistake. They're so tight. I think the Fed has gone crazy," added Trump, who tapped Powell to lead the bank but has publicly criticized the Fed under his tenure.
(Reporting by Kanishka Singh in Bengaluru; additional reporting by Susan Heavey in Washington; Editing by Anil D'Silva and Matthew Mpoke Bigg)