Chairman and CEO together or separate? Citigroup has to decide
Comments
By Reuters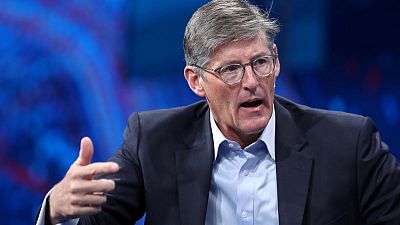 -
By David Henry
NEWYORK (Reuters) – JPMorgan Chase & Co <JPM.N> and Bank of America Corp <BAC.N> have placed the jobs of chairman and chief executive in the hands of one person, and now No. 3 Citigroup Inc <C.N> must decide whether to follow suit.
The matter will be resolved in the next few months as the current chairman, Mike O'Neill, reaches 72, the company's retirement age for directors. Citigroup CEO Mike Corbat will soon know if he will be taking on the additional duties of chairman or working for a new boss.
"The change in the chairman is the biggest corporate governance decision at Citigroup in six years," said analyst Mike Mayo of Wells Fargo. "That's important given what we see as worst-in-class returns, efficiency and stock market valuation."
Citigroup, the third-biggest U.S. bank by assets, reports third-quarter results on Friday. Investors will be watching its progress toward cost efficiency and return on equity targets, as well as revenue from its big U.S. credit card business.
Six years ago O'Neill became chairman and shortly after he led the board to replace then-CEO Vikram Pandit with Corbat. O'Neill said Corbat had impressed him with his handling of some $800 billion of Citigroup assets damaged in the financial crisis.
Since then Corbat, 58, has kept Citigroup on a path of improving profits and returning billions of dollars of excess capital to investors. But the recovery has been slow and has fallen short of the company's goals, as well as the performance of competitors. "Citi needs a greater sense of urgency to improve," Mayo said.
Under Corbat, Citigroup shares have nearly doubled. But their 91 percent gain, as of Wednesday, pales compared with the 163 percent jump for JPMorgan and the 210 percent gain for Bank of America, the biggest and second-biggest U.S. banks.
Citigroup stock has lagged the past year but probably not enough for Citigroup directors to feel pressed to make big changes when O'Neill leaves, said analyst Brian Kleinhanzl of Keefe, Bruyette & Woods.
"You need something like for the stock to be down 30 percent," he said. "That's not what is going on here."
In the second quarter, Citigroup's return on tangible common equity was 10.8 percent compared with Bank of America's 15.15 percent and JPMorgan's 17.2 percent.
Kleinhanzl said Citigroup stock is weak partly because investors doubt Citigroup can reach its target for return on tangible common equity, which rises to 13.5 percent in 2020. Getting there, Kleinhanzl said, "is going to be a challenge."
Citigroup declined to comment on the selection of the next chairman. In a statement, it said it was successfully executing its 2017 financial plan and had updated, and in one case raised, its targets for 2020.
O'Neill has publicly addressed the question of his successor at annual shareholder meetings. At the April meeting he said Corbat might become chairman and that he was "a bit agonistic" on whether the jobs of CEO and chairman should be kept separate.
One year earlier, O'Neill said the board believed that "an independent chairman is a good idea."
Other banks have faced shareholder votes on the issue. Bank of America took the chairmanship title away from CEO Ken Lewis in 2009 following a shareholder vote on the issue, only to give the job to CEO Brian Moynihan five years later. Since then the board has faced three shareholder votes on the question and prevailed in each.
In 2013, JPMorgan directors beat back a shareholder proposal seen as calling for CEO Jamie Dimon to give up his chairmanship after a $6.2 billion trading loss.
Mayo said some of Citigroup's largest shareholders have told him that they want the board to keep the chairman and chief executive roles separate. They "would be reassured having an extra set of eyes representing their interests," he said.
Studies are inconclusive on whether companies perform better with different people in the two posts, said Abby Adlerman, founder of consulting firm Boardspan.
Adlerman said she used to advocate separating the two posts, but has come to realise that titles suggesting independence and objectivity are not as important as personalities and collaborative relationships between directors and executives.
"The best CEOs, whether they are currently a chair or aspire to be a chair, realise the value of independent boards," said Adlerman.
(Reporting by David Henry in New York. Editing by Neal Templin and Steve Orlofsky)