Barrick maintains forecasts ahead of Randgold vote
Comments
By Reuters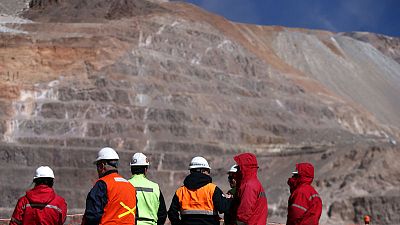 -
By Susan Taylor
TORONTO (Reuters) – Canada's Barrick Gold Corp <ABX.TO>, which recently announced a $6.1 billion (£4.6 billion) deal to acquire Randgold Resources Ltd <RRS.L>, https://t.co/N7uaLM1tXK affirmed its 2018 gold and copper production forecast on Wednesday, reflecting improvements in operations.
Citing preliminary data, Barrick said its 2018 effective tax rate was expected at about 48 to 50 percent, up from a previous forecast of 44 to 46 percent, because of lower-than-expected sales from lower-tax mines. More details are expected when it reports quarterly results on Oct. 24.
In the third quarter, Barrick said it sold 1.2 million ounces of gold and 114 million pounds of copper, and produced 1.15 million ounces of gold and 106 million pounds of copper.
Gold production was about 8 percent higher than in the second quarter, while all-in-sustaining costs, a closely watched industry benchmark, were about 7 to 9 percent lower.
Third-quarter copper output was up 28 percent from the second quarter, Barrick said, largely reflecting gains at the Lumwana mine in Zambia. All-in-sustaining costs are expected to be 10 to 12 percent lower than in the previous quarter.
The average gold price was $1,213 per ounce, with copper at $2.77 a pound in the third quarter, down from second-quarter prices of $1,306 for gold and $3.12 for copper.
The miner said it expected to produce 4.5 million to 5 million ounces of gold this year, at an all-in sustaining cost of $765 to $815 per ounce.
Barrick also repeated its full-year copper production forecast of 345 million to 410 million pounds. All-in-sustaining production costs for 2018 are still seen at $2.55 to $2.85 a pound.
Shareholders of Barrick and Randgold will vote on Nov. 5 on an all-stock transaction that will create a company with operations in Africa, Australia, North and South America, Saudi Arabia and Papua New Guinea.
Investors backing the no-premium deal believe big improvements are possible under Randgold boss Mark Bristow, who becomes chief executive of the merged miner and is known as a deft operator in challenging jurisdictions.
"I look at the potential of what Barrick can become with Mark Bristow running the company," said Joe Foster, portfolio manager at Van Eck, the biggest investor in Barrick and No. 2 holder in Randgold, and supporter of the deal. "I believe they can make it work."
Opponents have argued that Randgold deserves a premium for its industry-beating performance and worry about a culture clash between Bristow and Barrick Executive Chairman John Thornton.
(Reporting by Susan Taylor; Editing by Peter Cooney)