Ukraine seeks to bring in more airlines, sell airport contracts
Comments
By Reuters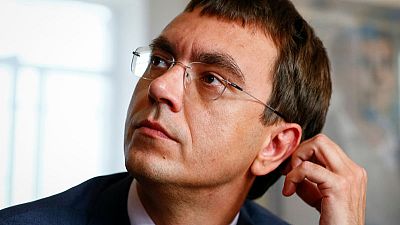 -
By Marc Jones
LONDON (Reuters) – Ukraine should have its first low-cost airlines flying domestic routes by the end of the year and is also putting a handful of contracts to run airports up for sale, the country's infrastructure minister said on Wednesday.
Ireland's Ryanair <RYA.I> launched its first routes to Ukraine this year and Volodymyr Omelyan, the minister who helped revive the deal after vested interests had threatened to torpedo it, is now working on the domestic market.
"We have a new operation SkyUp starting its operations and will get regular routes by the end of the year," said Omelyan, who was attending an investment conference in London.
"And I hope also by the end of this year, we will have another domestic company established in Kherson in south Ukraine."
Omelyan is currently facing an investigation by Ukraine's National Anti-Corruption Bureau (NABU) but has refused to resign, criticising the probe, which is into his finances, as politically motivated.
"The only goal is to ruin my reputation and stop me doing reforms."
On his next plans to open up Ukraine's aviation sector, he said Ryanair's scale may put off other pan-European airlines but he said there were talks with others from Asia looking to bring in tourists from India and China.
Omelyan declined to name them for commercial reasons but on the timing said it would be, "most likely next year, we are already in discussions with them."
Since 2016 passenger numbers in Ukraine have been growing around 30 percent a year and Kiev wants to quadruple the number of airports in the country over the next 12 years as part of a $60 billion infrastructure drive.
As well as bringing in new airlines, Kiev is also ready to offer out contracts to run a handful of its existing regional airports.
"I hope we will be ready to present to the market at least concessions of 3-5 airports early next year," he added.
Turning to the country's state-run rail system, Omelyan said there were plans to open up parts of it, such as cargo freight and longer distance passenger trains, to private operators too. A pilot scheme for freight is scheduled for next year.
Ukraine railways still has a number of serious governance and transparency issues but it now has a positive cash flow and has made a major pledge to invest in its rolling stock.
As a result, it is now edging towards the sale of a Eurobond, although Omelyan did not say how much it would be.
"They are very close to that decision. They are totally independent."
(Reporting by Marc Jones; editing by David Evans)