Swiss supreme court to rule in sweeping bank secrecy case
Comments
By Reuters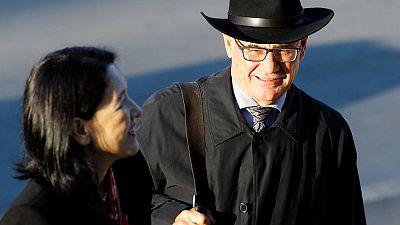 -
By Stephanie Nebehay
LAUSANNE, Switzerland (Reuters) – Switzerland's highest court convened on Wednesday to decide whether prosecutors can pursue whistleblowers for breaking the country's bank secrecy law wherever they are in the world, a case drawing international scrutiny.
The Swiss Banking Act requires employees of Swiss-regulated banks to keep client information confidential, but a number of staff have leaked account details to foreign authorities in the past decade as Western governments crack down on tax evasion.
Zurich prosecutors had asked the Federal Supreme Court to interpret the law so that the secrecy obligation is widened to include people with looser working relationships to Swiss banks and their subsidiaries abroad.
They are appealing against the 2016 acquittal of former private banker Rudolf Elmer on charges brought under the secrecy law.
Asked by Reuters if he was confident of victory, Elmer smiled and said "so-so" as he arrived for the public hearing before five judges at a courtroom lined with wood and marble.
Elmer, who headed the Cayman Islands office of Swiss private bank Julius Baer until he was dismissed in 2002, later sent documents with details of alleged tax evasion to the anti-secrecy group WikiLeaks and to tax authorities across the globe.
"FAR-REACHINGCONSEQUENCES"
Zurich's upper court ruled in 2016 that the bank secrecy law did not apply to him as an employee of the Caribbean subsidiary, rather than of the parent bank in Zurich.
In their appeal, the prosecutors argue that if they cannot apply the law to people connected to Swiss banks outside the country, this deprives banking secrecy of its substance "with far-reaching consequences that cannot be accepted".
Switzerland is the world's largest centre for overseas wealth management and in recent years has responded to international pressure, especially from the European Union and United States, for greater transparency.
This includes participation in the Automatic Exchange of Information programme, an agreement among developed economies which aims to ensure that offshore accounts are known to tax authorities in the account holders' country of residence.
Some lawmakers in the EU have worried that the prosecutors' move, if successful, may deter potential whistleblowers from supplying information on people accused of shifting their wealth to tax havens through accounts protected by secrecy laws.
In their appeal, prosecutors call for Elmer to get a 36-month jail sentence, 24 of which would be suspended. The Zurich upper court had given him a suspended sentence for forging documents and threatening Julius Baer following his dismissal. Elmer denied all the charges.
Prosecutors have argued that a legal precedent was needed to send a message to disgruntled people laid off from Swiss banking groups across the globe.
The law, they have argued, does not require that "the contractual activity be exercised under Swiss law" for Swiss bank secrecy to apply. Even contractors, lawyers and consultants who perform work for a Swiss bank internationally should fall under the obligation, they say.
(Writing by Michael Shields; Editing by Andrew Heavens)