Analysts see more risks than hope in Italy budget plan
Comments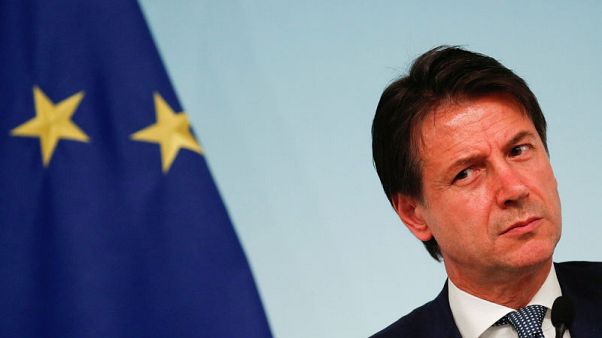 -
By Gavin Jones
ROME (Reuters) – Italy's expansionary multi-year budget plan published late on Thursday may backfire on the populist government, according to several analysts who see a risk of rising borrowing costs, a bruising battle with Brussels and ratings downgrades.
The budget raises the target for the fiscal deficit to 2.4 percent of gross domestic product next year, tripling a 0.8 percent goal left by the previous centre-left administration.
The deficit is projected to ease gradually in the following two years to 2.1 percent and then 1.8 percent, while remaining far above targets previously agreed with the European Commission.
Officials in Brussels fear it will increase Italy's huge public debt, already the highest among large European economies at around 131 percent of GDP.
The government bets that by raising domestic demand through investments, welfare hand-outs and tax cuts, stronger economic growth will enable the debt to fall as a proportion of GDP.
It targets growth at 1.5 percent next year, which is strong by Italy's chronically sluggish standards, 1.6 percent in 2020 and 1.4 percent in 2021.
Many analysts are sceptical.
Lorenzo Codogno, head of LC Macro Advisors and a former chief economist at the Italian Treasury, said the growth forecasts were "unrealistically high" and noted that the budget plan was "miles away" from complying with EU rules.
The EU's Fiscal Compact requires countries' "structural" deficits, adjusted for economic growth fluctuations, to fall steadily each year towards zero, whereas Italy's targets its structural deficit to rise next year by 0.8 percentage points.
"We're concerned that the government debt path is over-reliant on strong growth, thus making it more vulnerable than the fiscal plan implies," Morgan Stanley said in a research note.
It predicted Italian growth would average just 1 percent between 2019 and 2021 and the debt would rise marginally to 131.5 percent of GDP in 2021 rather than fall to 126.7 percent as the government targets.
In the near term, the European Commission will request extra belt-tightening and Italy's sovereign debt rating will be downgraded before the end of this month, the bank warned.
MOODY'S VERDICT
Moody's, which has a negative outlook on Italy's Baa2 rating, has been waiting for Rome to announce its fiscal plans and said it would pass judgement some time in October.
Barclays Capital analyst Fabio Fois said next year's 2.4 percent deficit target was based on an "overly optimistic" growth forecast. Using Barclays' 1.1 percent growth projection the deficit would end up "close to 3 percent of GDP", he said.
The hike in the deficit target means Italy will have to issue some 43 billion euros of fresh debt next year, increasing the vulnerability of public accounts to any worsening of market sentiment. Yields on Italian state bonds have already climbed steeply since the government took office in June.
While most market analysts are concerned about the budget plan, some economists welcomed the change of direction.
Gustavo Piga, economics professor at Rome's Tor Vergata university, said that by rejecting the straitjacket of EU rules the government had created an "enormous opportunity" to increase growth through public investments.
These are projected to increase to 2.3 percent of GDP by 2021 from 1.9 percent this year.
Giovanni Dosi, an economics professor at Pisa's Sant'Anna University, applauded the 10 billion euros to be spent next year on a so-called "citizen's income" for the poor, saying it could have a major impact on consumer spending and economic growth.
"If the government transfers money to the poor, they spend it all. If it transfers money to the rich, they only spend a bit of it," he said.
(Additional reporting by Luca Trogni; Editing by Gareth Jones)
euronews provides breaking news articles from reuters as a service to its readers, but does not edit the articles it publishes. Articles appear on euronews.com for a limited time.