Italy in clash with European Commission over 2019 budget
Comments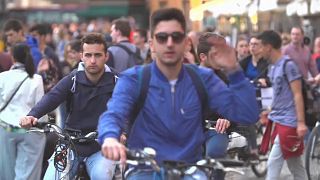 Italy's new government proposed a 2019 budget with a deficit three times larger than the previous administration's target, setting up a clash with the European Commission and sparking a sell-off of state bonds. The government offered a budget with a deficit of 2.4 percent of GDP for the next three years.
The economy Minister Giovanni Tria's department forecasts that a 2019 deficit above 1.9 percent would put at risk the containment of Italy's debt, the highest in Europe after Greece.
The European Union demands that Italy progressively cut the fiscal gap to rein in its debt. The EU Economic Commissioner Pierre Moscovici says "We have no interest in a crisis between the Commission and Italy, it is in nobody's interest because Italy is an important euro zone country. But we don't have any interest in Italy not respecting the rules and not reducing its debt, which remains explosive."
The 2019 budget will move more than 30 billion euros. It will set aside 10 billion euros for 5-Star's flagship policy of a " citizens' income" of up to 780 euros per month for 6.5 million poor Italians.
The budget will also allow people to retire earlier, freeing up about 400,000 jobs for the young. It would cost 7 billion euros. And 12.4 billion euros will go to avoid a VAT increase. Italy bonds were set for their worst day since May 29. Investors demand to hold Italian risk over the "safe" benchmark of German debt.