Banco BPM expecting binding offers for bad loans by mid-November - source
Comments
By Reuters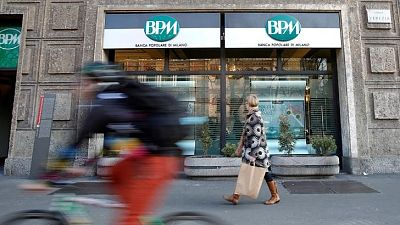 -
VENICE, Italy (Reuters) – Italy's third-largest bank Banco BPM <BAMI.MI> expects binding offers by mid-November for up to 9.5 billion euros (8 billion pounds) of bad loans, a source familiar with the matter said on Friday.
The source said the bank was pressing ahead with the sale process despite market turmoil and it is considering tapping a recently renewed state guarantee scheme that expires in March next year.
Three groups of investors had been shortlisted and the source said each group would be able to present multiple offers because the final size of the portfolio to be sold has yet to be decided.
The need to preserve capital buffers limits banks' room for manoeuvre in shedding bad loans, which are normally sold at a loss.
To cushion the hit to capital from Banco BPM's planned disposal, the bank is also looking to sell its debt-collection business.
Sources had told Reuters the bank was aiming to sell most of the bad loans put on the block, but the size of the disposal has been thrown into doubt by a recent sell-off in Italian assets.
A spike in Italy's borrowing costs triggered by fiscal slippage under the new populist government has cost Banco BPM 84 basis points of its best-quality capital in the second quarter.
Born in 2017 from the merger of Banca Popolare di Milano and Banco Popolare, Banco BPM had been lagging bigger rivals in shedding loans that turned sour during a deep recession, fuelling market worries it may need capital to fund a clean-up.
After completing a 5 billion euro sale in June, the bank still held 19.4 billion euros in impaired debt, amounting to 16.6 percent of total customer loans.
That compares with 8.7 percent at Italy's top bank UniCredit <CRDI.MI>.
(Reporting by Valentina Za; Editing by David Goodman)