WTO cuts world merchandise trade forecasts for 2018 and 2019
Comments
By Reuters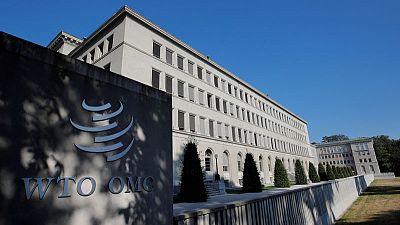 -
By Tom Miles
GENEVA (Reuters) – World trade growth is likely to be slower than previously thought in 2018 and 2019, although the direct economic effects of a trade war that has blown up this year have been modest so far, the World Trade Organization said on Thursday.
The WTO forecast world trade in goods would grow by 3.9 percent this year, less than the 4.4 percent it forecast in April. Next year trade growth of 3.7 percent is expected, a cut from the WTO's previous forecast of 4.0 percent.
The WTO said in a statement that some of the downside risks it had warned of in April had now materialised. At the time, WTO Director-General Roberto Azevedo warned that the robust recovery in global trade, after a decade in the doldrums, could be undermined by a tit-for-tat battle of trade restrictions.
"The direct economic effects of these measures have been modest to date but the uncertainty they generate may already be having an impact through reduced investment spending," the WTO statement said.
"While trade growth remains strong, this downgrade reflects the heightened tensions that we are seeing between major trading partners," the statement quoted Azevedo as saying.
"More than ever, it is critical for governments to work through their differences and show restraint. The WTO will continue to support those efforts and ensure that trade remains a driver of better living standards, growth and job creation around the globe."
Since the WTO's previous forecast, U.S. President Donald Trump has launched a trade war by imposing tariffs on hundreds of billions of dollars of imports from China, which has hit back with tariffs of its own, as well as taxing aluminium and steel imports from around the world to protect U.S. jobs.
Trump has threatened to slap tariffs on virtually all Chinese goods if China does not back down.
(Reporting by Tom Miles; Editing by Toby Chopra)