Japan-U.S. trade talks - temporary relief but no panacea for imbalance
Comments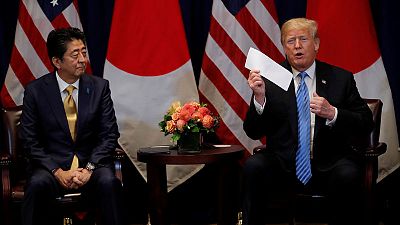 By Linda Sieg
TOKYO (Reuters) – A U.S.-Japan agreement to start new trade talks avoids a bust-up over the allies' bilateral trade gap for now, but any deal would probably do little to narrow the U.S. trade deficit that infuriates U.S. President Donald Trump.
The new Trade Agreement on Goods (TAG) talks are the latest in a long line of bilateral negotiations aimed at opening Japanese markets or, in some cases such as voluntary export restraints from 1981-1994, curbing Japanese exports to America.
Japan has already removed many formal barriers to foreign goods as a result of those talks, leaving relatively little room for measures that would have a big impact.
WHAT'S IN A NAME?
Japanese Prime Minister Shinzo Abe said the new framework for a Trade Agreement on Goods (TAG) was "completely different" from a wide-ranging Free Trade Agreement (FTA) that includes rules on investment and services – although a joint statement mentioned services as one target area.
Abe's stance was primarily for domestic consumption, as he has publicly insisted Japan would not enter FTA talks.
The agreement also says market access steps – read import tariff cuts – for farm goods will not exceed those under other deals by Japan, such as the Trans-Pacific Partnership pact Trump abandoned last year.
U.S. Trade Representative Robert Lighthizer said he's aiming for a full free trade deal requiring approval by Congress. That allows Trump to assert he got Japan to cave in.
CHINAIMBALANCEBIGGER
Many economists say focusing on trade gaps in a bilateral context makes little sense anyway given broader global economic factors.
A series of Japanese market opening steps under U.S.-Japan frameworks such as the Market-Oriented Sector-Selective (MOSS) framework of the 1980s and the 1990s Structural Impediments Initiative (SII) left Japan with relatively few market barriers, although it protects some farm goods with high tariffs.
"The market access issues that American companies have in Japan are miniscule," said Jesper Koll, head of equities fund WisdomTree Japan. "The big barriers to entry were removed by the Clinton administration."
Japan had a $69 billion trade surplus with the United States last year, which is less than 10 percent of the U.S. trade deficit. That compares with nearly 60 percent at its peak in the early 1990s. China accounts for about 46 percent of the U.S. trade deficit.
SWORD OF DAMOCLES
Almost two-thirds of Japan's trade surplus with the United States is from auto exports. The latest talks mean that, for now, Japanese automakers are spared further tariffs.
But Trump, who has focused on the U.S. trade deficit in goods, could still decide to impose high car import tariffs or seek export curbs if progress in the new talks with Japan is slow or limited.
"We can't be overly optimistic about the outcome. The U.S. says it would refrain from imposing new tariffs on Japanese autos 'while the talks are under way', so this is not the final decision," said Shoji Hirakawa, chief global strategist at Tokai Tokyo Research Institute.
"The market is relieved that the two countries' talks ended fairly peacefully for now, not like what the U.S. and Canada are going through."
(Additional reporting by Ayai Tomisawa, Kaori Kaneko and Yoshiyuki Osada; Editing by Neil Fullick)
euronews provides breaking news articles from reuters as a service to its readers, but does not edit the articles it publishes. Articles appear on euronews.com for a limited time.