Italy budget tussle goes down to wire, upsets markets
Comments
By Reuters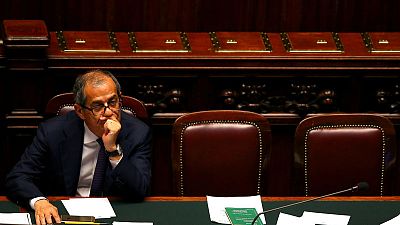 -
By Gavin Jones
ROME (Reuters) – Italy's new government struggled to contain a fierce internal battle over fiscal policy on Thursday, hours before it was due to unveil its 2019 budget targets, sparking a sell-off of state bonds and reviving fears the economy minister could quit.
Bond yields surged on fears the battle between ruling-party leaders and the fiscally conservative minister could lead to a delay in the much-anticipated release of the budget targets, due to be agreed by cabinet in the evening.
A delay, cited as a possibility in an unsourced report in the Corriere della Sera, would be viewed by investors as a sign that Economy Minister Giovanni Tria may indeed resign despite repeated denials from his office, the latest on Thursday.
Deputy Minister Luigi Di Maio, who as leader of the main ruling party has been pushing aggressively for an expansive budget despite Italy's heavy indebtedness, said he knew of no move to delay the meeting, scheduled for 6 p.m. (1600 GMT).
"I'm not aware of any delay," Di Maio told reporters on a visit to Brussels.
Di Maio's anti-establishment 5-Star Movement and its coalition partner, the League, are pushing Tria, an academic not affiliated to either party, to ramp up the fiscal deficit to finance their promises of tax cuts and higher welfare spending.
The cabinet is due to sign off on the new targets for economic growth, the deficit and public debt for 2018-2021, with most attention focused on the 2019 deficit goal.
Tria has softened an initial insistence the deficit should not exceed 1.6 percent of gross domestic product and is now willing to accept a ratio of around 1.9 percent, government sources have said.
That would compare with a current target of 1.6 percent for this year, and would be sharply up from a 0.8 percent goal pencilled in for 2019 by the previous centre-left administration.
Tria's Treasury department forecasts that a 2019 deficit above 1.9 percent would put at risk debt containment, a source familiar with the matter said on Thursday.
However, the League and 5-Star, which formed a government in June, have both been pushing for a deficit between 2 percent and 2.5 percent to fund their election promises.
Late on Wednesday a source from the ruling majority said the parties wanted the goal set at 2.4 percent, as meetings continued to try to break the impasse.
The targets form the framework for the 2019 budget, which must be approved by the cabinet by Oct. 20.
MARKETNERVES
Tria said on Wednesday the budget would include the parties' flagship policies, including a basic income for the poor and a lower retirement age, though it remains unclear how wide-ranging such measures will initially be and how they will be financed.
The League and 5-Star, rivals ahead of an inconclusive election in March, say they will govern together for a full five-year term and phase in most of their policies gradually.
Financial markets have been nervous since the government took office due to fears its spending plans will boost Italy's debt, which is already the highest in the euro zone after Greece's as a proportion of GDP – around 131 percent.
Italy's government bonds had rallied this week on the expectation Tria could water down the coalition's more radical proposals and keep a lid on public finances.
In a speech on Wednesday Tria tried to strike a balance between promising a growth-friendly, expansionary budget and maintaining the trust of markets as well as avoiding a head-on clash with the European Commission.
"We are working on a mix of policies that show everyone they should have confidence in Italy, not only in our public finances but in our economic growth," he said.
(Additional reporting by Giuseppe Fonte in Rome and Francesco Guarascio in Brussels; Editing by Mark Bendeich and Toby Chopra)