'Sceptical' French must be patient on reforms - finance minister
Comments
By Reuters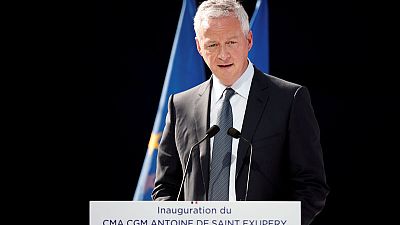 -
By Leigh Thomas
PARIS (Reuters) – French voters growing restless to see the fruits of President Emmanuel Macron's reform drive will need to wait at least another year for the full impact, Finance Minister Bruno Le Maire said.
Macron's pro-business government rushed through an overhaul of the labour market and tax cuts for the wealthy and companies in his first year in office, leaving many voters feeling left behind.
"French people are sceptical, this is the French culture," Le Maire told a small group of foreign journalists on Tuesday. "They are asking for very concrete results and I think it takes time to get the full benefits of the reforms."
With Macron's popularity close to record lows, his government is counting on 6 billion euros (£5.3 billion) in tax cuts for households next year to help stop voter support crumbling further.
The government pushed through an overhaul of the labour code and a first round of tax cuts in its first year in office against little resistance.
Le Maire insisted that the government would not relent on its reform push even though overhauls of the pension and unemployment insurance system next year are likely to prove more contentious.
"We already have the first benefits of the reforms, but these are for the time-limited benefits and I think we still have to wait some more – 12 or 24 months – before getting the full benefits of the reforms," he said
Le Maire is shepherding a shake-up of corporate law to make doing business easier by scrapping red-tape and charges for employee profit-sharing schemes.
Planned tax cuts aside, the government has little room to manoeuvre in its budget to make its reforms easier to swallow as it also seeks to cut public spending, among the highest in the world.
It has been under pressure from the central bank and the International Monetary Fund to detail budget savings seen as necessary to reducing spending over time.
The budget deficit is set to rise close to an EU limit of 3 percent of national income next year due to plans to transform a corporate payroll tax credit scheme into a permanent tax cut.
Le Maire ruled out the possibility of further spending cuts to ensure the deficit does not overshoot the limit if growth proves weaker than 1.7 percent the 2019 budget is based on.
"To ask for more would be unreasonable," he said. "If you go too far too fast with public spending cuts, growth will falter."
(Reporting by Leigh Thomas; Editing by Robin Pomeroy)