Siemens to cut 2,900 German jobs as part of 500 million euro cost-saving plan
Comments
By Reuters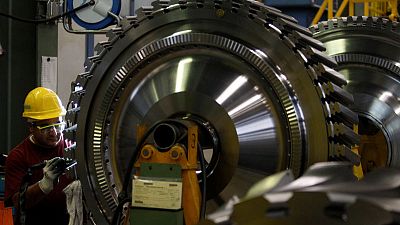 -
FRANKFURT (Reuters) – German engineering group Siemens on Monday said it would cut around 2,900 jobs in Germany as part of a restructuring plan to achieve 500 million euros (449.23 million pounds) in cost savings.
Siemens said the measures were designed to boost the competitiveness of its Power and Gas division and the Process Industries and Drives division.
"The market for fossil power generation has contracted substantially. Against the backdrop of this structural change, the agreement we've reached is critical to improving our competitiveness," Lisa Davis, member of the Managing Board of Siemens AG said in the company's statement.
The cuts are planned over the next two years, Davis added.
Cuts at Power and Gas in Germany will amount to around 270 million euros in efficiency gains, as part of an overall goal to achieve 500 million euros in savings, Siemens said.
Around 2,900 jobs will be cut in Germany instead of the 3,400 announced in November, and sites in Goerlitz and Berlin will continue operations, Siemens said.
The company said a sale of its site in Leipzig would now be a preferred option while another location in Erfurt would be restructured. A site in Offenbach will be closed.
Labour representatives fought hard to ensure there will be no forced redundancies at Siemens, said Juergen Kerner, a member of the supervisory board who represents IG Metall.
In August, Siemens said it would combine its five industrial divisions into three operating companies as part of a broader effort to slim down its conglomerate structure.
(Reporting by Edward Taylor; Additional reporting by Alexander Huebner; Editing by Tassilo Hummel, Jane Merriman and Kirsten Donovan)