Siemens nears multi-billion euro deal in Iraq - Handelsblatt
Comments
By Reuters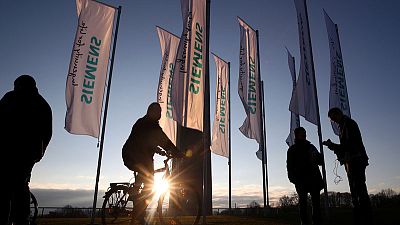 -
FRANKFURT (Reuters) – German engineering group Siemens <SIEGn.DE> is working on a deal worth up to 9 billion euros (8.09 billion pounds) to supply energy generation technology to Iraq, business daily Handelsblatt reported, citing government and industry sources.
Siemens Chief Executive Joe Kaeser has travelled to Iraq to secure a memorandum of understanding with the country on Sunday, the paper said, adding the deal also involved power transmission technology.
The Iraqi government has not made a decision whether to accept Siemens' offer, which has also been supported by German Chancellor Angela Merkel this week, Handelsblatt said.
"We had submitted our roadmap document for repowering Iraq to Prime Minister Haider Jawad Al-Abadi in February," a Siemens spokesman said in emailed comments, adding the group has had a series of meetings and positive government feedback since then.
"Through our proposal, we aim to add 11 gigawatts of power generation capacity in four years, create thousands of jobs in the country, and support anti-corruption, skills development and education among Iraqis," the spokesman said.
He did not elaborate on the volume of the potential contract.
In 2015, Siemens signed an 8 billion euro deal with Egypt to supply gas and wind power plants to add 16.4 gigawatts of capacity to the country's power grid, marking the group's single biggest order.
(Reporting by Christoph Steitz and Alexander Huebner, editing by Louise Heavens)