Cboe exchange turns to machines to police its 'fear gauge'
Comments
By Reuters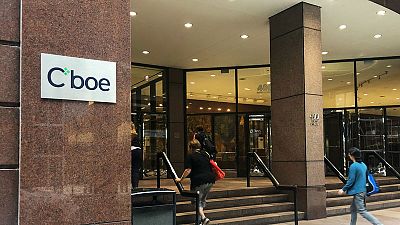 -
By John McCrank and Saqib Iqbal Ahmed
NEWYORK (Reuters) – Hard pressed to quash allegations that its popular "fear gauge" is being manipulated, Cboe Global Markets <CBOE.Z> is turning to artificial intelligence to help put those concerns to rest.
The exchange, which owns the lucrative volatility index the VIX <.VIX>, has taken several steps to confront manipulation claims that have helped drive the Cboe's stock down about 15 percent this year, putting it on pace for its worst year ever.
In its latest effort to police trading tied to the index, the Cboe is working with FINRA, its regulatory services provider, to develop machine learning techniques to tell whether market conditions surrounding the VIX settlement are potentially anomalous, the exchange told Reuters.
"Incorporating the use of machine learning and AI (Artificial Intelligence) is a logical part of the ongoing enhancement of our overall regulatory program," Greg Hoogasian, Cboe chief regulatory officer, said in an emailed statement.
Cboe declined to elaborate on when it began using machine learning techniques to monitor VIX settlements.
Any steps, however, may take a while to change investors' minds on the stock.
"Any time you see controversy over manipulating markets and it involves a company, there are people who will walk away from the stock," said Peter Tuz, president of Chase Investment Counsel in Charlottesville, Virginia.
"It ends up tarnishing the company and subjecting them to legal risk that is very hard to quantify," he said.
Tuz said Chase Investment Counsel, which owned nearly 19,000 Cboe shares in mid-2017, began selling its stake early this year, shedding the last of it on May 21.
Cboe's stock performance this year has lagged that of other major exchange operators. Shares of Nasdaq Inc <NDAQ.O> are up about 17 percent, Intercontinental Exchange Inc's <ICE.N> is up about 10 percent and CME Group Inc <CME.O> shares have risen 18 percent.
Concerns the index was being manipulated surfaced last year after John Griffin and Amin Shams of the McCombs School of Business at the University of Texas, Austin wrote an academic paper that noted significant spikes in trading volume in S&P 500 index options right at the time of settlement.
The paper also compared the value of the VIX at settlement with its value as calculated from S&P 500 options right after the settlement, and showed the two tend to diverge.
Instances of big deviations are taken as evidence by some that unscrupulous traders have been deliberately moving the settlement price.
A stock market fall on Feb. 5 that caused the VIX to surge the most in its 25-year history brought further scrutiny to the index, and led to dozens of lawsuits and ongoing probes into the matter by the U.S. Securities and Exchange Commission and the Commodity Futures Trading Commission.
The regulators have yet to comment on the matter and Cboe has denied the manipulation accusations, citing liquidity problems and legitimate hedging activity as reasons for unusual moves on settlement days.
"Only a forensic analysis of those episodes can confirm or refute such a claim," said Kambiz Kazemi, partner at Canadian investment management firm La Financière Constance.
Meanwhile, the steps Cboe has taken to address the claims of manipulation are going in the right direction, said Kazemi.
The exchange operator recently overhauled the technology behind the auctions, improved the speed with which it sends alerts about auction imbalances, and sought to increase the number of market makers that provide buy and sell quotes for the auction.
POLICINGTHEFEARGAUGE
Orderly VIX settlement auctions over the last few months have helped take some of the pressure off the Chicago-based exchange operator.
"I think we all will be observing the effects of the Cboe measures in the next few months," Kazemi said.
VIX and associated products accounted for roughly a quarter of Cboe's 2017 earnings, analysts estimate, and the controversy around the product has spooked some stockholders.
While financial firms have been using artificial intelligence software for everything from compliance to stock-picking, a growing number of firms have started to use it for market oversight.
Given the huge amount of data involved in market surveillance, machine learning algorithms can be far more efficient than humans in rooting out potential market manipulation, said Richard Johnson, a market structure and technology consultant at Greenwich Associates.
"It's going to be a must have," he said.
FINRA, which already monitors Cboe's market on the company's behalf, confirmed it was working on machine learning to enhance surveillance of the VIX settlement auctions, but would not offer specifics.
More generally, the Wall Street watchdog is working to use artificial intelligence to catch nefarious activities more quickly, including schemes that may have previously been unknown to regulators, said Tom Gira, who oversees FINRA's market regulation department.
He said FINRA has begun using machine learning to scan for illegal activities across stock and options exchanges and is in the process of adding a feedback loop to the software that would regularly incorporate analysts' data and allow the machines to detect ever-changing manipulation patterns.
(Reporting by John McCrank and Saqib Iqbal Ahmed in NEWYORK; Additional reporting by Michelle Price in WASHINGTON; Editing by Megan Davies and Tomasz Janowski)