Volvo Cars seeks U.S. tariff exemption for Chinese-made SUV
Comments
By Reuters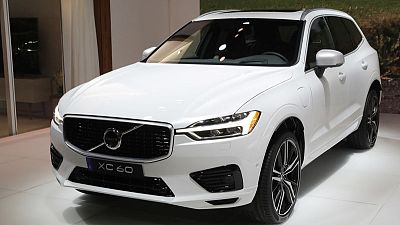 -
By David Shepardson
WASHINGTON (Reuters) – Volvo Cars has asked the Trump administration to exempt the company's Chinese-made mid-size XC60 SUV from new 25 percent tariffs, the latest automaker to seek relief from new levies on imports from China.
The automaker confirmed on Friday it has sought an exemption with the U.S. Trade Representative's Office (USTR) for the popular vehicle that accounted for nearly a third of its U.S. sales in August.
"The imposition of the additional 25 percent duty on mid-size SUVs would cause severe economic harm," Volvo said in an Aug. 16 letter to USTR that has not been previously reported. "The burden of the 25 percent duty imposed on vehicles imported from China will also be borne by American consumers."
Earlier this week, Volvo Cars and its Chinese owner Geely [GEELY.UL] postponed plans to float shares in the Swedish carmaker, blaming trade tensions and a downturn in automotive stocks.
The XC60 in August accounted for 31 percent of Volvo's U.S. sales.
Volvo said the XC60 was initially built only in Sweden and then it added production in China. From January to early March, Volvo was sourcing vehicles from both countries but since March U.S. XC60s have only come from China, the company said.
Volvo recently started commercial production at its new Charleston, South Carolina plant, where it is building S60 sedans, it told USTR, "but over time given our global manufacturing footprint we could also anticipate production of the XC60 in the U.S. as well."
A Volvo spokesman did not comment on whether new tariffs have affected vehicles now in U.S. showrooms or if the levies will prompt price increases. The Trump administration imposed new 25 percent tariffs on $34 billion in Chinese goods in July, including on Chinese-made vehicles.
Volvo cited General Motors Co's <GM.N> July 30 request seeking an exemption for its Chinese-made Buick Envision SUV in its petition. GM's petition suggested a cap of 40,000 vehicles that could be exempted while Volvo suggested that the government not impose any cap.
USTR has not ruled on either petition but has said if it grants exclusions they will apply retroactively to the data the tariffs were imposed in July.
GM said in a separate response to Volvo's petition filed with USTR that it disagreed with Volvo's request, arguing Volvo should "submit its own exemption request to be adjudicated on the merits."
GM, the largest U.S. automaker, told USTR Envision sales in China and the United States would generate funds "to invest in our U.S. manufacturing facilities and to develop the next generation of automotive technology in the United States."
Geely, which paid Ford Motor Co <F.N> $1.8 billion for Volvo in 2010, also has stakes in Mercedes-Benz parent Daimler <DAIGn.DE>, truckmaker AB Volvo <VOLVb.ST> and Lotus.
(Reporting by David Shepardson; Editing by James Dalgleish)