Tesla investor spoke with U.S. SEC about 'funding secured' tweet
Comments
By Reuters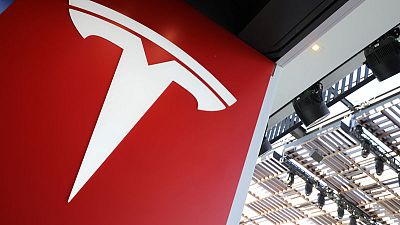 -
LONDON (Reuters) – Tesla Inc's <TSLA.O> biggest institutional investor said on Wednesday it had spoken to U.S. securities regulators about Elon Musk's plans to take the electric carmaker private and that the chief executive needs help running the company.
"He needs help, and I mean that psychologically as much as practically," said asset manager Baillie Gifford's James Anderson, the fund manager of Scottish Mortgage Investment Trust, which owns Tesla shares.
The last few months have been tumultuous and chaotic for Tesla and its eclectic CEO. While Tesla was wrestling to ramp up production of its mass-market electric Model 3 sedan, on Aug. 7 Musk tweeted that he was considering taking the company private at $420 per share in a transaction valuing it at $72 billion(55.10 billion pounds), and that funding was "secured."
On the evening of Aug. 24, a Friday, Musk, by then facing U.S. Securities and Exchange Commission scrutiny into the factual accuracy of his financing tweet, blogged that Tesla would remain public, citing investor resistance.
Anderson told Reuters that Musk was "getting there" on the idea of accepting more help in running the company, which could include the option of hiring a chief operating officer. Analysts have also been calling for Tesla to bring in another senior leader.
Anderson added he had suggested to Musk that his tweets are "not a great thing."
(Reporting by Simon Jessop; Editing by Meredith Mazzilli)