Sterling rebounds from lows as Brexit rebels pledge loyalty to May
Comments
By Reuters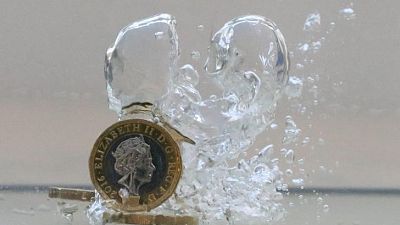 -
By Saikat Chatterjee and Tommy Wilkes
LONDON (Reuters) – Sterling <GBP=D3> bounced back from early lows in volatile trading on Wednesday after Brexit-supporting members of parliament in British Prime Minister Theresa May's party publicly pledged support for her to stay in power.
The pound had fallen as much as a quarter of a percent to below $1.30 <GBP=D3> against the dollar after the BBC reported a group of MPs in May's ruling Conservative Party had met to discuss how and when they could force her out of her job.
But it later rose as MPs within her party said they wanted May to stay in power despite disagreeing with her Brexit proposals. Rebellious Conservative MPs have condemned May's plans for Britain to remain in a free trade zone for goods with the EU after it leaves the bloc.
European Commission head Jean-Claude Juncker on Wednesday also renewed a pledge of close trade and security ties with Britain post-Brexit, helping lift sentiment.
The Bank of England meets on Thursday for its monetary policy meeting, at which it is expected to keep rates on hold.
Analysts said Brexit would dominate sterling trading.
"It is clear that the stories about an imminent challenge to Theresa May are still weighing on sentiment and the pound will find it hard to rally too far before more clarity on Brexit emerges," said John Marley at FX risk management specialist SmartCurrencyBusiness.
In choppy trading in recent days, sterling had hit five-week highs of $1.3087 on renewed hopes of a speedy Brexit deal with Brussels.
While recent signals from Brussels have pointed to renewed confidence that Britain and the EU can agree a deal to govern trading relations after Brexit, divisions within May's government over Brexit continue to rattle markets.
The pound has lurched up and down on almost every Brexit-related headline in the past week, as traders struggle to decipher whether Britain can avoid a no-deal Brexit when it leaves the EU.
Positive economic data in Britain published this week, including relatively strong GDP numbers, have been pushed into the background.
Traders say many investors are reluctant to take out big directional bets on sterling because of the uncertainty about where the Brexit negotiations are headed.
"The market is very focussed on the immediate and now rather than the future," said Neil Mellor, an analyst at BNY Mellon.
Mellor said that investors were increasingly confident EU leaders would rally round May to try and secure a Brexit agreement, reflected in the fact sterling had traded away from its 2018 lows of sub-$1.27 hit in mid-August.
(Reporting by Saikat Chatterjee and Tommy Wilkes; Editing by Matthew Mpoke Bigg and Gareth Jones)