New BoE regulator has 'really terrible memories' of 2008 crisis
Comments
By Reuters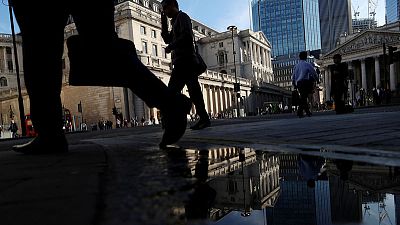 -
By David Milliken
LONDON (Reuters) – A new Bank of England regulator said she had "really terrible" memories of her time at Switzerland's UBS during the financial crisis and would resist any attempt to loosen financial regulations brought in since.
Jill May joined the BoE's Prudential Regulation Committee (PRC), which regulates banks, in July and was a managing director at UBS between 2001 and 2012, during which it required three bailouts from the Swiss government.
"Having lived through the financial crisis — and believe me it was a deeply shaming and searing experience — I would always be in favour of ensuring the highest possible global financial standards," she told British legislators.
"I have really terrible memories," she added, saying she recalled Swiss pensioners who had lost money on UBS shares hurling eggs at the bank's staff.
More recently May served on a British government body which approves company takeovers. Her term at the BoE will last until July 2021.
She said she was relatively optimistic about the prospects for Britain's financial industry after Brexit and that most firms were well prepared, but the BoE would need to be prepared for all eventualities.
Also speaking to parliament's Treasury Committee was another new PRC appointee, London School of Economics law professor Julia Black, who starts her three-year term at the central bank on Nov. 30.
Black highlighted as potential concerns the rapid developments in consumer-facing financial technology and the extent to which detailed information provided to regulators genuinely reflected the risks faced by financial institutions.
"All financial services firms face risks arising from the highly febrile national and international political environment," she said in written evidence. "This includes not only Brexit, but the growing disputes in global trade and the unpredictable nature of various countries' foreign policies."
(Reporting by David Milliken, editing by Andy Bruce)