Canada sees more NAFTA talks this week, much work remains - source
Comments
By Reuters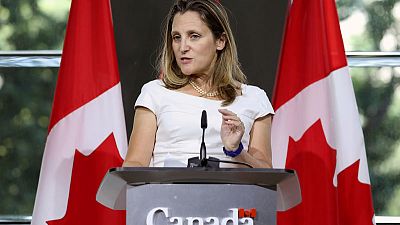 -
By David Ljunggren and Adriana Barrera
SASKATOON, Saskatchewan/MEXICO CITY (Reuters) – Canadian Foreign Minister Chrystia Freeland plans to return to Washington for more talks on NAFTA on Thursday but plenty of work remains before the two sides can strike a trade deal, a well-placed Canadian source said on Wednesday.
Although the United States wants to agree on the text of a new deal on the North American Free Trade Agreement by Oct. 1, the source reiterated Canada's position that it would take as long as needed.
"I expect we'll probably have several more sessions. This won't get resolved in an afternoon," said the source, who declined to be identified given the sensitivity of the situation.
"We don't feel there's any tremendous pressure to get it done in the immediate short term," the source added.
Canadian Prime Minister Justin Trudeau, speaking to legislators of his ruling Liberal Party at a meeting in the western city of Saskatoon, on Wednesday reiterated that he would rather have no NAFTA than sign a bad agreement.
U.S. President Donald Trump has already struck a deal with Mexico and is threatening to exclude Canada from the trilateral pact unless Ottawa agrees to concessions.
The two sides are still arguing over cultural protections, a U.S. demand for more access to the Canadian dairy market and a dispute resolution mechanism that Canada wants to keep and Washington insists be scrapped.
Freeland plans to fly to Washington late Wednesday, the source said. She is most likely to hold a single day of talks with U.S. Trade Representative Robert Lighthizer on Thursday before returning to Washington next week.
"We'll see if the Americans are ready to come to the table to do a deal. The tone is more constructive, the tone has been different," said the source. "The most optimistic scenario would be to get a deal in principle next week."
Freeland met with Lighthizer on Tuesday and then flew to Saskatoon to brief Trudeau on Wednesday.
Canadian officials say they have some doubt as to whether Trump has the legal power to unilaterally tear up the 1994 pact, which he says is biased against the United States and needs to be reformed.
NAFTA underpins $1.2 trillion in trade. Uncertainty over the pact's future has hit Canadian and Mexican markets as well as the two countries' currencies.
Earlier on Wednesday, Mexican Economy Minister Ildefonso Guajardo said while he expected the U.S-Canada talks to yield an agreement, Mexico must be ready to pursue a bilateral trade deal with the Washington if need be.
Guajardo told reporters that Mexico still wants Canada to join the agreement to make it trilateral, saying that would be a "great asset."
Guajardo also said that Kenneth Smith, Mexico's chief NAFTA negotiator, went to Washington on Wednesday to continue working on the wording of the new bilateral accord that Trump announced.
(Reporting by David Ljunggren in Ottawa and Adriana Barrera in Mexico City; Editing by Susan Thomas and Leslie Adler)