On NAFTA, Nissan U.S. chief says: 'We're heavily American'
Comments
By Reuters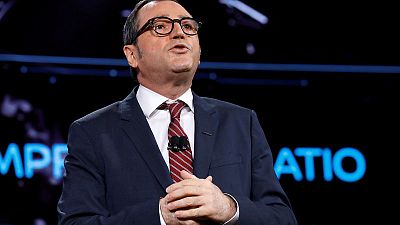 By Nick Carey
DETROIT (Reuters) – Nissan Motor Co Ltd's <7201.T> North American division chief said on Tuesday that the Japanese automaker is awaiting details of the U.S.-Mexican trade agreement but is confident it can comply with its rules because it assembles around 1 million vehicles annually in the United States.
"We are not just importing cars from abroad… we are very, very, very heavily American," Denis Le Vot told Reuters during a visit to Detroit. "We have all the basics here; we're producing locally with local steel and local content."
Nissan makes a range of vehicles at plants in Smyrna, Tennessee, and Canton, Mississippi, including its popular Rogue crossover, Titan pickup trucks and the Altima midsize sedan. Nissan also builds a number of vehicles in Mexico, including the Sentra and Versa sedans.
U.S. President Donald Trump, who has said he is prepared to tear up the North American Free Trade Agreement, last month struck a bilateral trade deal with Mexico.
Talks are ongoing between the U.S. and Canadian governments to salvage NAFTA.
The deal with Mexico would require 75 percent of auto content to be made in the NAFTA region, up from the current level of 62.5 percent, and would require 40 percent to 45 percent of auto content to be made by workers earning at least $16 per hour.
Precise details on how those benchmarks would be calculated have not yet been published.
"We're working actively with the U.S. government and Mexican government to get all the details," Le Vot said. "Only when we get them can we say 'OK, this is what we have to do.'"
"We can only hope it's going to be good for business, good for suppliers and dealers, good for our employees and more importantly for the customer and the market," he added.
Le Vot said after a difficult transition last year to its new-year model vehicles, Nissan has reduced inventories and is poised to grow its retail market share in the second half of the year.
Nissan's inventory is currently around 230,000 vehicles, down from 300,000 vehicles a year ago. The company has also been reducing low-margin fleet sales and Le Vot said new vehicles like its small Kicks crossover and a revamped Altima should help boost sales.
"This is a very good opportunity to grow the retail market share," Le Vot said.
The automaker's U.S. sales rose 4.4 percent in August versus the same month in 2017, but are down 4.8 percent year to date.
(Reporting by Nick Carey; Editing by Dan Grebler)