Canada's Freeland to hold NAFTA talks in Washington on Tuesday
Comments
By Reuters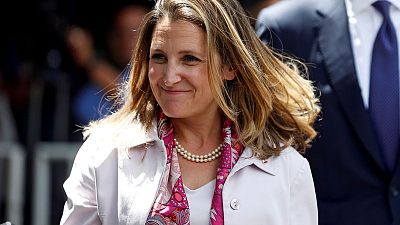 -
OTTAWA (Reuters) – Canadian Foreign Minister Chrystia Freeland will meet U.S. Trade Representative Robert Lighthizer in Washington on Tuesday to discuss talks to renew the NAFTA trade pact, a government official said on Monday.
Freeland spokesman Adam Austen did not give details. After more than a year of talks, Canada and the United States are still trying to resolve differences over the North American Free Trade Agreement, which also includes Mexico.
U.S. officials say time is running out to reach a deal that the current Congress can vote on. Freeland spent a day in Washington last week and said she and Lighthizer were making very good progress in some areas, although a deal remained out of reach.
Austen, asked whether Freeland might return to Washington later in the week, said no decisions had been taken. She is due to attend a two-day meeting of legislators from the ruling Liberal Party in western Canada on Wednesday and Thursday.
Officials say the main sticking points are Canada's dairy quota regime, Ottawa's desire to keep a dispute resolution mechanism, and Canadian media laws that favour domestically produced content.
U.S. President Donald Trump, who says he is prepared to tear up NAFTA, has struck a trade deal with Mexico and threatened to push ahead without Canada.
(Reporting by David Ljunggren; editing by Diane Craft and James Dalgleish)