German exports, output fall in July as U.S. trade policies bite
Comments
By Reuters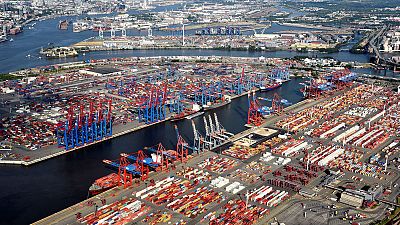 -
BERLIN (Reuters) – German exports and industrial output both unexpectedly fell in July, in a fresh sign that manufacturers in Europe's largest economy are suffering from U.S. President Donald Trump's protectionist trade policies.
The Federal Statistics Office said on Friday seasonally adjusted exports fell by 0.9 percent on the month, while imports surged by 2.8 percent. A Reuters poll had pointed to a rise of 0.2 percent in both.
The seasonally adjusted trade surplus narrowed to 15.8 billion euros (14.2 billion pounds) from 19.3 billion in June.
Separate data from the Economy Ministry showed industrial output dropped by 1.1 percent. The Reuters forecast was for a 0.2 percent rise.
The ministry said industrial output would likely regain momentum soon after a muted start to the third quarter, which was depressed by "temporary bottlenecks in passenger car registrations under the new driving cycle".
"Industrial recovery is likely to continue once that backlog of registrations disappears," it added in a statement.
(Reporting by Paul Carrel and Maria Sheahan; editing by Thomas Seythal)