Australian inquiry to peer into darkest corners of insurance business
Comments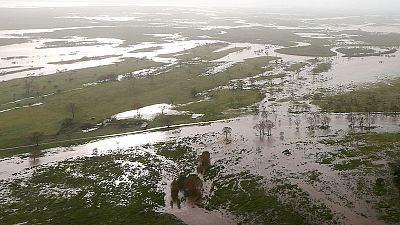 By Byron Kaye
SYDNEY (Reuters) – When Australia's deadliest cyclone in a quarter century ripped through the country's northeast, it blew out the windows of power technician Luke Read's house and flooded it, damaging walls and making his family sick from mould exposure.
But his insurer, part of Commonwealth Bank of Australia <CBA.AX>, sent a "claim adjuster" who declared most of the damage from Cyclone Debbie's 195 km/h winds and heavy rains non-existent or minor, leaving him with most of a hefty repair bill.
"She walked into my home and said, 'oh no, I've seen worse than this'," said Read, 34, adding the assessor told him she had no building qualifications. "My daughter, her eyes are constantly puffed up. My wife has been as sick as I've ever seen her. It's devastating."
Eighteen months later, CommInsure's assessment was overturned this week after Read went to the financial ombudsman.
His experience reflects concerns of consumer advocates about secrecy in the way the A$46 billion (25 billion pounds) insurance industry assesses claims, an issue set to come under intense scrutiny this month at a public inquiry into financial system wrongdoing.
The powerful quasi-judicial inquiry, known as a Royal Commission, has already rocked the banking, wealth management and superannuation industries with revelations of systemic malpractice, leading to expectations of tighter regulation.
Now it's the insurance industry's turn to face the heat as the commission holds hearings over the next two weeks which could lift the lid on some of the sector's best-kept secrets.
SPIKE IN COMPLAINTS
Australians lodged 4 million insurance claims in 2017, up 7 percent, thanks to more natural disasters like Debbie, but denied claim numbers rose 11 percent, industry data show.
That brought a spike in complaints; breaches of an industry-monitored code of conduct jumped nearly three quarters to 6,613 that year, most in relation to claims, the data shows.
That has fuelled demands for a change to laws which let insurers hide how they determine what to pay policyholders.
"It's almost a black box, and it's all self-regulated and obviously that's failed," said Susan Quinn, a senior policy officer at the Consumer Action Law Centre, a non-profit.
"Without (the Australian Securities and Investments Commission) having any oversight, there's no improvement and people continue to see delays or bad treatment."
An ASIC spokeswoman said the regulator wants "more significant penalties for misconduct in relation to insurance claims handling".
A CommInsure spokesman declined to comment on Cyclone survivor Read's case. The insurer had paid A$50 million for 4,500 claims from Debbie, he said.
INCENTIVES
Consumer advocates said they want the inquiry to reveal the financial arrangements between indemnifiers and the experts they hire to determine the merit of claims.
The inquiry has heard banks pay salespeople incentives to market their financial planning, mortgage and retirement products regardless of whether such arrangements are in customers' best interests. Advocates want to know if insurers are doing the same thing with assessors.
"We have always suspected that there have been … misaligned incentives built into agreements with investigators and external claim assessors," said Drew MacRae, a policy officer at the Financial Rights Legal Centre.
David Keane, a former assessor who represents policyholders like Read, said he had no evidence of insurers paying bonuses to limit claims but there was insufficient separation.
"It's not an incentive as such, but the incentive is 'if I word things in the way the insurance company wants me to, I'm going to get more work'," he said.
The CommInsure spokesman said the company paid no incentives to consultants or staff for reducing claim payouts.
Storm survivor Read was relieved the ombudsman made CommInsure pay for the repairs and for alternative accommodation.
"We never actually thought the cyclone would be the easy bit," he said.
(Reporting by Byron Kaye; Additional reporting by Paulina Duran; Editing by Stephen Coates)
euronews provides breaking news articles from reuters as a service to its readers, but does not edit the articles it publishes. Articles appear on euronews.com for a limited time.