Exclusive - Cargill hedge fund CarVal says rejected approach by Schroders
Comments
By Reuters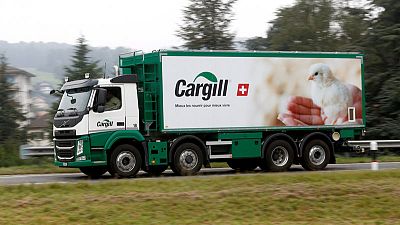 -
By Maiya Keidan and Jonathan Saul
LONDON (Reuters) – British asset manager Schroders <SDR.L> expressed interest in buying CarVal Investors in May but the hedge fund that is owned by U.S. agri group Cargill said it was not for sale, a CarVal executive said.
CarVal, with $11.6 billion (9.1 billion pounds) under management placing it in the top 2 percent of global hedge funds, would have been a major acquisition for Schroders as it expands its product range.
"Schroders … said they would be interested in looking at ways we could work together," CarVal Managing Principal Lucas Detor told Reuters. "They asked if we were for sale, we said no."
"We have been very clear with every person we have spoken to that CarVal is not for sale. We've been approached by numerous different asset managers of large size over the last 24 months."
Schroders, a FTSE 100 company with 449 billion pounds in assets under management and administration at end-June, declined to comment.
Two sources familiar with the matter valued CarVal at about $200 million. Detor said that was not "a fair approximation".
Privately-owned Cargill tried to sell the hedge fund business two years ago. But two potential deals fell through. Shortly after that CarVal's president at the time, John Brice, was replaced by Detor and two other managing principals.
Schroders has bought several so-called 'alternatives' businesses in recent years, including real estate and private equity to diversify its products and geographic reach.
Hedge fund acquisitions are rare, with just one deal so far in 2018 and one in 2017, Dealogic data showed. But other major agri business firms have exited their hedge funds.
Louis Dreyfus Company ,one of the world's top four agri business firms with Cargill, Archer Daniels Midland <ADM.N> and Bunge <BG.N>, wound down its commodity fund manager Edesia Asset Management last year.
"I see the Cargills, Bunges and others starting to take action and going back to basics to what they traditionally have done and not get too fancy," said Jay O'Neil, senior agricultural economist with Kansas State University.
Cargill closed another hedge fund in 2015 but Detor said he had no indication it wanted to sell CarVal, saying the parent firm had "been very supportive of our team and our initiatives."
Cargill has cut costs, shed assets and overhauled its management as global supplies of commodity grains soared and profit margins in the trading business have tightened.
CarVal runs approximately 20 funds, including hedge funds and private equity funds.
(Additional reporting by Carolyn Cohn and Simon Jessop in London and PJ Huffstutter in Chicago; Editing by Edmund Blair)