Euro zone inflation eases, supporting ECB view
Comments
By Reuters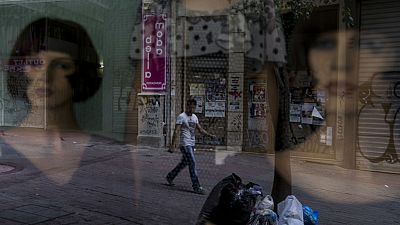 -
By Philip Blenkinsop and Balazs Koranyi
BRUSSELS/FRANKFURT (Reuters) – Euro zone inflation slowed this month, supporting the European Central Bank's assessment that a recent spike may only temporary as, despite years of monetary stimulus, underlying price pressures remain weak.
Inflation in the 19 countries sharing the euro eased to 2.0 percent from 2.1 percent in July, Eurostat said on Friday, undershooting expectations for a steady rate, as the pull from energy and food prices eased.
The ECB targets inflation at just below 2 percent but has undershot for half a decade, even as it cut interest rates deep into negative territory, gave banks ultra cheap cash, and bought trillions of euros worth of debt to stimulate growth.
Still, price pressures have built up enough for the ECB to curb some of its measures and the bank plans to end the bond purchases this year, even if interest rates are on course to remain unchanged at least for another year.
Some critics say that the ECB is already at its inflation target and should therefore roll back stimulus more aggressively, but ECB chief Mario Draghi argues that spiking energy prices are the main culprit and underlying inflation – stripped of food and fuel prices – show a more subdued trend.
Indeed, underlying inflation eased to 1.2 percent in August from 1.3 percent in July, while a narrower measure looked at by economists that also excludes alcohol and tobacco fell to 1 percent from 1.1 percent.
In a potentially worrying sign for the ECB, the price of industrial goods not related to energy grew by just 0.3 percent after 0.5 percent the previous month, even as the euro's weakness against other currencies likely increased import costs.
The ECB expects inflation to average 1.7 percent through 2020, a figure Draghi considers below target, even as hawkish policymakers say it is good enough, particularly since the economy continues to motor ahead, so price pressures should continue to build.
Supporting this argument, Eurostat also said on Friday that unemployment held steady at a post-crisis low of 8.2 percent with the number of jobless shrinking further.
Although growth has slowed this year, the expansion has lasted five years already and several recent sentiment indications have surprised on the upside, indicating that growth is steadying at a rate that is still above the bloc's natural potential so will continue to absorb spare capacity.
The ECB next meets on Sept 13, when no substantial decision is expected as rate-setters have already laid down the policy path for the next year, requiring only incremental changes as long as the economy meets expectations.
(Reporting by Philip Blenkinsop, Foo Yun Chee and Alissa de Carbonnel; editing by John Stonestreet)