Proxy fight looms as new investors ramp up pressure on Campbell Soup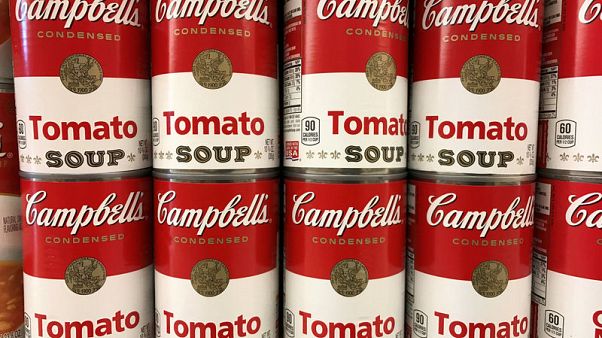 -
By Svea Herbst-Bayliss and Richa Naidu
BOSTON/CHICAGO (Reuters) – The family that controls Campbell Soup Co <CPB.N> looks to be on a collision course this week with new hedge fund investors pushing for the company to sell itself, heralding a potential proxy fight industry analysts have labeled the "fight of the fall."
The soup and snack company is set to report the results of a strategic review on Thursday, but has shown no sign that it will put itself on the block, as recommended by activist investor Daniel Loeb's Third Point LLC earlier this month.
If no sale process is planned, Loeb could escalate his attack and nominate a slate of directors within the next few weeks to be voted on at Campbell's annual meeting later this year, according to sources familiar with the matter.
Loeb and Campbell Soup, which has a market value of about $12 billion, declined comment.
The Camden, New Jersey-based company has been struggling with falling profit as younger consumers drift away from Campbell's namesake soups and Pepperidge Farm cookies. Its share price is down by a third over the past two years.
Wall Street has questioned the success of its acquisitions of juice and smoothie maker Bolthouse Farms and salty snack maker Snyder's-Lance. Chief Executive Denise Morrison, who headed Campbell for seven years, left as the company announced poor quarterly results on May 18.
On that day, the company said it would conduct a review of all its business plans and portfolio of brands to find ways to improve its financial performance.
"Everything is on the table. There are no sacred cows," Chief Financial Officer Anthony DiSilvestro told investors at the time. The result of the review will be announced on Thursday.
Historically, the company has resisted bigger changes, being effectively controlled by the heirs of John Dorrance, the chemist who invented condensed soup and went on to run the company a century ago.
Dorrance's grandchildren Mary Alice Malone, who raises horses in Pennsylvania, and her brother Bennett Dorrance, a real estate developer in Arizona, have fended off periodic calls over three decades for the company to sell itself, and have shown no sign of changing their minds this year.
Malone and Dorrance, who between them control 33 percent of Campbell's shares, could not be reached for comment.
Archbold van Beuren, John Dorrance's great-grandson who is Campbell's third-biggest holder with 8.6 percent of its shares, also could not be reached for comment.
In the past, the family has been able to rely on supportive, long-term shareholders. But in the past few months – most notably in the second quarter of 2018, when the company announced its wide-ranging review – a number of hedge fund investors have bought positions and are looking for more sweeping measures, including a sale.
"Everyone's dream is for the company to give up looking for a permanent CEO and put the company up for sale," said one investor not permitted to speak publicly. If that does not happen, the investor said the best course would be for the company to sell Bolthouse Farms, name a new CEO, and talk with Loeb "about putting two or three new people on the board."
NEWHEDGEFUNDHOLDERS
Steven Schonfeld's Schonfeld Group Holdings and Jamie Zimmerman's Litespeed Management made big new purchases of Campbell Soup shares during the second quarter, filings show. Och-Ziff, now known as OZ Management, and Hudson Bay Capital Management also bought shares. The hedge funds declined to comment.
"There has clearly been a lot of crowding into Campbell stock by event-driven investors" seeking to make money off share price moves around corporate events like a sale, said Simnan Abbas, a managing director at investment data firm Symmetric.io. That crowding "does not happen all the time and has changed the makeup of the shareholder base pretty significantly."
Campbell's new hedge fund investors are likely allies for Loeb, who in August joined forces with another of Dorrance's grandchildren, George Strawbridge Jr., in calling for a sale.
Loeb's $18 billion fund is now Campbell's fifth-largest investor. It and Strawbridge between them hold 8.4 percent of Campbell's shares.
Despite the increased pressure for change, Campbell's board shows little sign of shifting course dramatically. It recently turned away at least one company that approached it about buying parts of its portfolio, a person familiar with the matter said. It has, however, weighed selling off brands including its Arnott's Australian cookie business, another person familiar with the matter said.
As hedge fund investors move in, longstanding shareholders such as trust company Bessemer Trust and mutual fund company Fidelity Investments have pared back their holdings, according to filings. Neither company would say why they cut their stakes.
That means Malone and Dorrance could face more demanding and outspoken investors at this year's annual meeting, if not an outright proxy fight.
"This company has really slowed down since 2016 and I don't see a major way for them to innovate quickly," said investor David Dreman whose Dreman Value Management bought shares several years ago. "How can a company with a diversified product line in a low-growth industry turn itself around quickly?"
(Reporting by Svea Herbst-Bayliss and Richa Naidu; Additional reporting by Harry Brumpton; Editing by Vanessa O'Connell and Bill Rigby)
euronews provides breaking news articles from reuters as a service to its readers, but does not edit the articles it publishes. Articles appear on euronews.com for a limited time.