Uber to focus more on bikes and scooters
Comments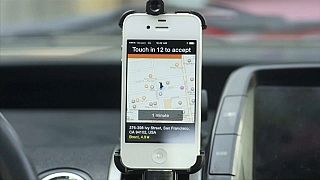 Uber's chief executive says the company is planning to shift its emphasis away from cars and more towards electric bikes and scooters. In an interview with the Financial Times, Dara Khosrowshahi said that the company is forecasting that city-dwellers will make more frequent and shorter journeys in the future.
The CEO admitted that the move could hurt profits in the short-term but that it is part of a long-term strategy.
Uber first added e-bikes to its app in February and acquired the bike-sharing company Jump for about $200m in April. Jump bikes are available in eight US cities, and will soon launch in Berlin.
Uber has also struck deals with Lime, an electric scooter company, and Masabi, a London-based app that provides mobile ticketing for public transport, with the aim of building what the CEO calls an "urban mobility platform".