UK mortgage approvals fall in July, credit growth slows - UK Finance
Comments
By Reuters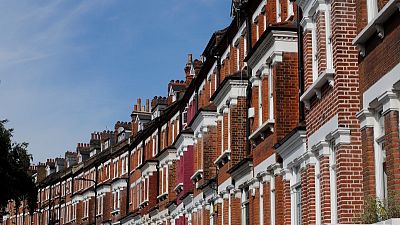 -
LONDON (Reuters) – British banks approved fewer mortgages last month, despite a boost from existing home-owners seeking to lock in cheaper interest rates ahead of the Bank of England's rate rise in August, industry data showed on Friday.
The number of mortgages approved for new house purchases dropped by 4.3 percent on the year to 39,584 on a seasonally adjusted basis, figures from trade association UK Finance showed, and net mortgage lending was the weakest since February.
"The broader economic outlook remains mixed, with households continuing to see their incomes being squeezed by rising inflation," UK Finance director Peter Tyler said.
"July saw steady growth in gross mortgage lending, driven largely by remortgaging as homeowners locked into attractive deals in anticipation of the recent base rate rise," he added.
Annual consumer credit growth slowed to 3.7 percent, its weakest since December 2014, though a narrower measure of credit card purchases was more robust, which UK Finance linked to the World Cup and unusually warm weather boosting spending.
(Reporting by David Milliken; Editing by William Schomberg)