Japan's Mizuho to take on more lending risk to arrest decline in profitability - CEO
Comments
By Reuters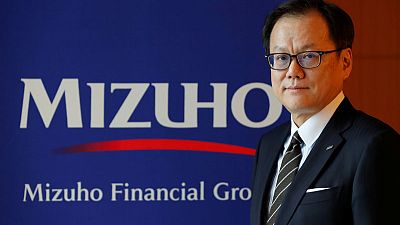 -
By Taiga Uranaka
TOKYO (Reuters) – Mizuho Financial Group Inc <8411.T> will shed its conservative approach to lending and take on greater risk at home and abroad, its new chief executive told Reuters, as Japan's second-largest bank by assets looks to reverse its falling profitability.
Mizuho is the least profitable of Japan's three mega-banks. Unlike peers Mitsubishi UFJ Financial Group Inc <8306.T> and Sumitomo Mitsui Financial Group Inc <8316.T>, Mizuho has not splurged abroad in search of growth to offset stagnation at home where aggressive central bank policy eats into lending income.
One criticism analysts often level at Mizuho is an apparent focus on large, blue-chip firms which have a very low chance of defaulting on loan repayments and so are able to borrow cheaply – something which also makes them not very profitable customers.
Tatsufumi Sakai, who assumed his role in April, said Mizuho must change its risk-averse culture to improve profitability.
"We are taking various measures to improve our risk-taking capabilities," Sakai said in an interview. "For instance, we are making conscious efforts in the overseas non-investment grade field, where we had a tendency to seek safety and avoid errors."
Mizuho's domestic loan-deposit rate margin – the difference between interest earned from loans and paid for deposits – was 0.84 percent for October-March, compared with 0.97 percent at SMFG. It was 1.24 percent five years earlier, just before the central bank began a policy aimed at reducing lending costs.
Under another initiative, Sakai, 58, said credit officers responsible for screening loans are being embedded with each business unit rather than grouped in an independent department, to make the whole process of lending more responsive to clients.
"We cannot help customers when they really need it by just playing safe," said Sakai, a career Mizuho banker.
On expanding abroad, Sakai said Mizuho is unlikely to buy a full-service bank catering to both retail and business clients, such as MUFG target PT Bank Danamon Indonesia Tbk <BDMN.JK>.
"Basically, our global business is 'B2B' (business to business) and it's our priority to sharpen our edge there," he said. "We won't try to enter B2C (business to consumer) in a single big deal."
Rather, he said Mizuho is more likely to invest in or buy financial technology (fintech) start-up companies, for which the bank has a dedicated private equity fund.
Traditional financial institutions have been investing in fintech research and start-ups in anticipation of nimbler, innovative rivals attracting younger generations with cheaper, easier-to-use services in areas such as lending and remittance.
"For us, it's important from the viewpoint of buying seeds for technology and business. It won't cost much anyway," Sakai said.
(Reporting by Taiga Uranaka and Taro Fuse; Editing by Christopher Cushing)