German services sector can't offset weaker manufacturing for long - PMI
Comments
By Reuters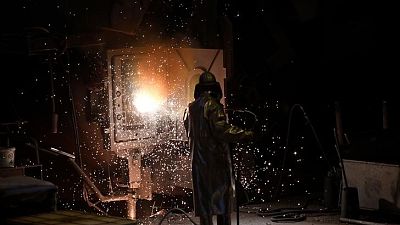 -
BERLIN, (Reuters) – Germany's services sector continues to provide a temporary cushion to the economy against a cooling trend in manufacturing, a survey showed on Thursday, confirming the vulnerability of the world's export champion to rising trade frictions.
IHS Markit's flash composite Purchasing Managers' Index (PMI), which tracks the manufacturing and services sectors that account for more than two-thirds of the economy, rose to a six-month high reading of 55.7 in August from 55.0 in July.
An index measuring manufacturing activity fell to 56.1 from 56.9 in July, the lowest reading in two months. The index for services rose to a six-month high of 55.2 from 54.1.
The figures reflected a cooling trend in the manufacturing sector that started this year after an all-time high reading in December 2017.
Economists attribute this partly to the increasingly protectionist policies of U.S. President Donald Trump, which have clouded the outlook for Germany's export-dependent manufacturers.
The German economy, Europe's largest, has been relying on private consumption and government spending for growth.
Chris Williamson, chief business economist at IHS Markit, said if the cooling trend in manufacturing is not reversed, the slowdown would soon spread to the services sector.
"We do think the weakening manufacturing trend will continue, unless of course there is a turnaround in new orders," he said. "The question is: how long will the services sector remain robust in the face of the deteriorating manufacturing trend?"
He added: "History tells us that when manufacturing turns down services sooner or later follow it down."
In addition to trade worries, the outlook for German manufacturers is being clouded by the currency crisis in Turkey, which contributed to weaker growth in new export orders, Williamson said.
IHS Markit expect the German economy to expand by 0.5 percent in the third quarter, on a par with the growth rate recorded in the April-June period.
"While the manufacturing PMI retreated slightly, it remained well inside growth territory at the mid-point in the third quarter," said Phil Smith, principle economist at IHS Markit.
"The top-line number is perhaps flattered by the output component, with trends in new orders and exports – the latter the weakest in over two years – pointing to a softer pace of growth."
(Reporting by Joseph Nasr; Editing by Toby Chopra)