China says wants to 'fully strengthen' trade ties with Britain
Comments
By Reuters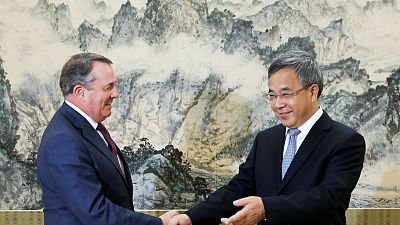 -
BEIJING (Reuters) – Chinese Vice Premier Hu Chunhua told visiting British trade minister Liam Fox on Thursday that China wanted to "fully strengthen" its trade and business ties with Britain, state media said, as the country prepares to leave the European Union.
Britain has pushed a strong message to Chinese companies that it is fully open for business as it prepares to leave the EU next year, and China is one of the countries with which Britain would like to sign a post-Brexit free trade deal.
Last month, China offered Britain talks on a post-Brexit free trade deal.
Meeting in Beijing, Hu told Fox that China attaches great importance to ties with Britain and has always put the relationship "in an extremely important position", the official Xinhua news agency reported.
China is willing to work with Britain to "fully strengthen cooperation in economic and trade areas", Hu added.
The report did not give specifics.
While a trade pact with China would be a political win for Britain's government, formal talks cannot begin until it officially leaves the EU. Free trade talks typically take many years to conclude.
Fox said on Tuesday that Britain aims to boost exports to 35 percent of gross domestic product after leaving the EU as it looks to increase trade ties with the rest of the world, but he gave no timeframe for reaching the target.
Fox, a prominent Brexit supporter, has spent much time over the last two years touring the globe promoting the merits of post-Brexit Britain as a trading partner and holding preliminary talks ahead of possible future trade negotiations.
(Reporting by Ben Blanchard; Editing by Kim Coghill)