Scotland's budget gap falls, Sturgeon warns of Brexit danger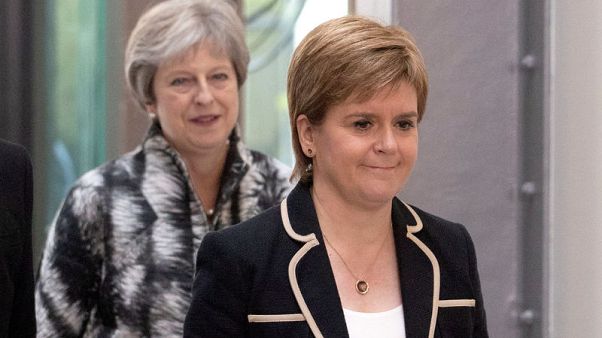 By Elisabeth O'Leary
GLASGOW, Scotland (Reuters) – Scotland's large budget deficit shrank in the last financial year to its lowest since 2012 but remained far larger in percentage terms than that of the United Kingdom as a whole, Scottish government data showed on Wednesday.
The health of Scotland's economy, as Britain prepares to leave the European Union in March 2019, is a key issue affecting Scottish voters' appetite for independence. Opinion polls put support for independence at about 45 percent.
Data showed that Scotland's net fiscal deficit shrank to 13.4 billion pounds in the 2017/18 tax year from 14.5 billion pounds the year before, helped by stronger North Sea oil and gas revenues.
As a percentage of gross domestic product (GDP), the deficit fell to 7.9 percent from 8.9 percent — the lowest since 2011/12 but far higher than in the United Kingdom as a whole, where public sector net borrowing was 1.9 percent of GDP in 2017/18.
Sturgeon described Brexit on Wednesday as a "real and present danger" for Scotland and Britain's economy.
She said she was not opposed to the United Kingdom holding a second vote on EU membership – a cause championed by an increasing number of people opposed to Brexit.
But with a majority of voters in Scotland having already voted in the 2016 referendum on EU membership to stay in the bloc, Sturgeon said, the question for Scots now was whether they should continue to be part of a Britain heading for Brexit.
PUBLICSPENDING
Scotland and Northern Ireland voted in the referendum to remain in the EU, while England – by far the most populous of the home nations – and Wales voted to leave.
In 2014 Scottish voters rejected independence from the rest of Britain by 55 percent to 45 percent.
Prime Minister May has ruled out a second vote on EU membership and says it is "not the time" for another Scottish independence vote.
Sturgeon defends higher Scottish public spending and blames deficit-reduction policies imposed by May's Conservatives for rising income gaps across Britain.
Per capita public spending in Scotland was 1,576 pounds more than the British average, supported by taxes from other parts of Britain – proof, the Scotland minister in May's UK government said, that the United Kingdom was working well as a structure.
"Simply put, Scotland contributed eight per cent of UK tax, and received more than nine per cent of UK spending for the benefit of families across the country," David Mundell said.
Scotland last ran a smaller budget deficit than the UK as a whole in 2010-11 and oil revenues are in long-term decline.
(Reporting by Elisabeth O'Leary, editing by Gareth Jones)
euronews provides breaking news articles from reuters as a service to its readers, but does not edit the articles it publishes. Articles appear on euronews.com for a limited time.