German union to start pay talks for Ryanair cabin crew on Wednesday
Comments
By Reuters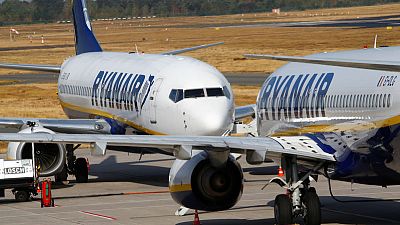 BERLIN (Reuters) – German union Verdi will meet Ryanair <RYA.I> in Dublin on Wednesday to start pay talks for around 1,000 cabin crew working in Germany for Europe's largest low-cost airline, it said.
Verdi is seeking a substantial pay increase for cabin crew, it said in a statement on Monday, and wants Ryanair to recognise German law and pay social security contributions.
"Through seasonal shifts and a lack of guaranteed flight hours, some full-time employees receive gross pay of only around 1,000 euros a month. That's completely unacceptable," Verdi board member Christine Behle said.
Ryanair disputed that figure. "Our pilots earn up to 190,000 euros in Germany (and up to 200,000 euros across Europe), and our cabin crew earn up to 40,000 euros and enjoy excellent working conditions including favourable rosters and unmatched job security," a spokesman said.
Ryanair endured its worst one-day strike on Friday after a walk-out by pilots in five European countries disrupted the plans of an estimated 55,000 travellers with the budget airline at the height of the summer holiday season.
(Reporting by Victoria Bryan; Editing by Douglas Busvine and Jane Merriman)