Caring or creepy? UK banks turn to alerts to keep customers loyal
Comments
By Reuters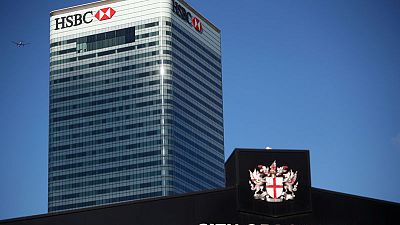 -
By Emma Rumney
LONDON (Reuters) – Britain's biggest banks are planning to send personalized spending alerts and in some cases money management advice to their mobile banking customers as they strive to shore up brand loyalty in the face of growing competition.
Lloyds Banking Group <LLOY.L> and HSBC <HSBA.L> will launch a range of new alerts from this year, for instance informing clients whenever they spend on their card or when a bill is higher than usual.
The move is one example of how traditional lenders are expected to start harnessing a wealth of customer data in ways they haven't before, as competition and changing consumer behavior threaten their decades-old business model.
New regulation has left banks more vulnerable to threats from players like digital-only banks Monzo and Revolut, which are trying to gain a foothold with slick apps, cut-price fees and by accusing lenders of ripping off consumers.
The digital banks also plan to increasingly use customer data to recommend a variety of products, from insurance to energy.
HSBC expects its alerts will become increasingly tailored around customers' spending habits in future. Some could take a more informal, friendly tone, said Josh Bottomley, HSBC's global head of digital, data and development.
"It will start to feel like your personal trainer in the gym," he told Reuters in an interview.
Bottomley said previously banks worried customers would find this kind of initiative intrusive, but today consumers were used to regular notifications and personalization.
The messages will offer insights into how customers use their cash and prompt them to take action, for instance by feeding money into a savings account or rolling over their credit card bill into a lower interest loan.
Lloyds said it could also look at nudging customers towards changing the way they run their finances. A spokesman for the Royal Bank of Scotland <RBS.L> said it was considering something similar, but declined to give details.
'ON YOURSIDE'
Lloyds will offer several new push alerts on its app, with the first to be launched this year, said Nick Edwards, product owner, consumer servicing transformation at the bank.
HSBC will roll out 12 new alerts to several million users in Britain and Hong Kong before 2019. At both banks, customers will have to sign up to receive the notifications.
Bottomley rejected the suggestion that HSBC's messages would be just another way for the bank to make money.
"There is a much bigger benefit of creating a customer experience where people feel we're on their side and actually want to bank with HSBC because they feel like we're helping."
Consumers would be right to exercise some caution, said Sandra Wachter, a lawyer and research fellow in data ethics at the University of Oxford.
"We always have to keep in mind that all companies are not altruistic entities, they are doing this because they have some kind of commercial interest. So we have to ask ourselves the question 'what's in it for them?'."
Repositioning as customer-friendly has become a "strategic imperative" for lenders to fend off growing competition, said Edward Firth, managing director for UK banks at brokerage KBW.
Big banks are also investing heavily to keep pace. Lloyds will spend 3 billion pounds ($3.8 billion) over the next three years, while HSBC has launched a $2 billion technology drive.
HSBC declined to give a revenue target for its plan. A September 2017 job advert for a role managing a team working on digital messaging at the bank said it involved driving revenues of over $200 million across Europe, the Middle East and Africa.
It says it has 500 people around the world working on digital customer communications.
Tamara Kennedy, a 24-year-old surveyor and HSBC customer, welcomed the bank's plans. "I'd probably find that quite useful, you don't tend to realize what you're spending," she said outside a branch in London's financial district. However she said she would still shop around for the best products.
(Reporting by Emma Rumney; Editing by Emelia Sithole-Matarise)