Erdogan remains defiant despite Turkish Lira's spiral
Comments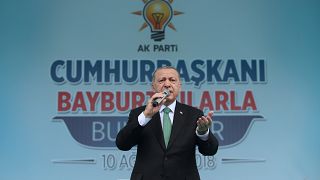 President Erdogan insists Turkey will win what he calls its "economic war" with Washington, which recently imposed financial sanctions on Turkey.
The value of the Turkish Lira has fallen by 2/3 since the start of the year.
Erdogan addressed crowds: "If you have dollars, euros or gold under your pillow, go to banks to exchange them for Turkish lira. It is a national fight."
A key reason behind Turkey's plummeting currency is its worsening relations with the White House.
On Friday, President Trump doubled tariffs on Turkish metal imports, largely the result of Turkey's terrorism trial of a US evangelical pastor whose freedom Washington is demanding.
But it's believed Turkey's economy has been overheating for months, with inflation now at 16%, fuelled by easy credit to businesses and households.
The numbers have been sliding ever since President Erdogan's election victory in June, with concerns among foreign investors about his control of monetary policy as well as the birth of Turkey's new presidential republic.
Despite the country's foreign debt at a perilous 53% of its GDP, Erdogan is insisting people must look at the 'big picture' instead of mere foreign exchange prices.