Tribune Media files suit, terminates Sinclair merger deal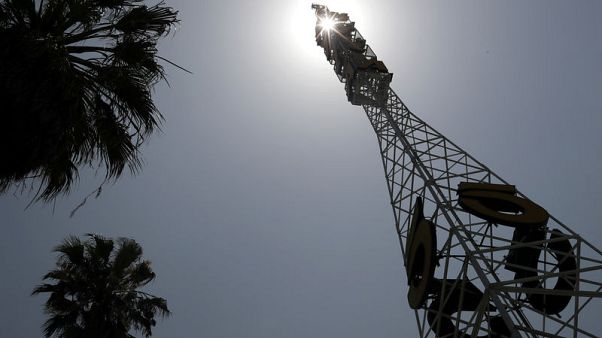 -
By David Shepardson
(Reuters) – Tribune Media Co <TRCO.N> said on Thursday it had terminated a $3.9 billion (3 billion pounds) deal to be acquired by Sinclair Broadcast Group <SBGI.O> and was suing Sinclair for breach of contract, after regulators objected to the acquisition that was supported by U.S. President Donald Trump.
Tribune filed the lawsuit against Sinclair, the largest U.S. broadcast station owner, alleging material breach of contract over its failure to win over regulators 15 months after the merger was first announced.
Tribune seeks about $1 billion (776.9 million pounds) of lost premium to Tribune's stockholders and additional damages in an amount to be proven at trial, according to a copy of the lawsuit filed in Delaware.
The deal's termination, which scuppers Sinclair's efforts to dramatically expand, comes after criticism by Democrats and public advocacy groups over whether the merger was in the public interest. It also follows a significant blow from the Republican-led Federal Communications Commission last month, when it questioned Sinclair's candour over the planned sale of some stations.
The FCC said Sinclair did not "fully disclose facts" about the planned sale of three stations, including pre-existing business relationships between the company and prospective buyers. It also said the $60 million (46.6 million pounds) purchase price for Tribune's WGN-TV in Chicago "appeared to be significantly below market value."
Sinclair shares sank nearly 4 percent to $26.02 in early trading, while Tribune climbed 2.7 percent to $34.55.
"To maintain control over stations it was obligated to sell, Sinclair engaged in unnecessarily aggressive and protracted negotiations with the Department of Justice and the FCC over regulatory requirements," Tribune said. "Sinclair's entire course of conduct has been in blatant violation of the merger agreement and, but for Sinclair's actions, the transaction could have closed long ago."
The FCC said in July Sinclair "did not fully disclose" facts about the merger, raising questions about whether the company had "attempted to skirt the commission's broadcast ownership rules" and would, in fact, actually control the stations Sinclair said it was divesting.
FCC Chairman Ajit Pai has been vocal in his opposition to the deal, a stance that was criticized by Trump.
"So sad and unfair that the FCC wouldn't approve the Sinclair Broadcast merger with Tribune. This would have been a great and much needed Conservative voice for and of the People," Trump said in a Twitter post in July.
Advocacy group Free Press said in an FCC filing in August 2017 that Sinclair forces its TV stations to "air pro-Trump propaganda and then seeks favours from the Trump administration." The group praised Tribune's announcement Thursday.
Pai told Congress after Trump's tweet that he stood by his decision to refer the issue to a hearing. The FCC declined to comment on Thursday.
Sinclair, which owns 192 stations, said in May 2017 that it planned to acquire Chicago-based Tribune's 42 TV stations in 33 markets.
OTHERBIDS?
Tribune is likely to receive other bids as the industry faces a wave of consolidation.
Nexstar Media Group <NXST.O> and Twenty-First Century Fox Inc <FOXA.O>, partnering with private equity, had considering buying Tribune before Sinclair announced its deal and are likely bidders, analysts have said.
Last month, Cox Enterprises Inc <COXET.UL> said it was exploring strategic options for its 14 television properties, citing statements by Pai "that he intends to loosen rules around ownership of local TV stations."
Sinclair did not immediately comment on Thursday, but said last month "at no time have we withheld information or misled the FCC in any manner whatsoever."
The FCC voted last month to refer the proposed merger to an administrative law judge to review questions about Sinclair's candour, a move that analysts had then said would likely lead to the deal's collapse.
The company is "open to all opportunities" in terms of industry consolidation or remaining independent, Tribune Media Chief Executive Officer Peter Kern told investors on a call on Thursday. He noted there was "tons of activity out there."
Kern said he would continue to run the company until Tribune reached a "permanent state."
He said the merger's failure was not the result of "an unwelcoming regulatory environment" but how Sinclair moved forward.
Tribune general counsel, Eddie Lazarus, told analysts on the same call the company was seeking a "large number" in damages from Sinclair.
Under the terms of the deal, Tribune and Sinclair had the right to call off the merger without paying a termination fee if it was not completed by Aug. 8.
A dozen Senate Democrats said in April Sinclair was deliberately distorting news coverage by forcing local stations to read scripts that criticized what it described as "the troubling trend of irresponsible, one-sided news stories plaguing our country."
The FCC raised questions after Sinclair had proposed to sell WGN to Maryland auto dealer Steven Fader, a longtime business associate of Sinclair Executive Chairman David Smith, as Sinclair would largely continue to operate the station under a services agreement.
Sinclair also had planned to sell stations in Dallas and Houston to Cunningham Broadcasting Corp, a company controlled by the estate of Smith's mother.
To attempt to satisfy the FCC, Sinclair had said last month it would not divest WGN and would seek to put the two Texas stations into a divestiture trust to be sold and operated by an independent trustee.
The FCC's concerns followed similar questions raised in separate filings by the American Civil Liberties Union and conservative news outlet Newsmax Media.
(Reporting by Arjun Panchadar in Bengaluru and David Shepardson in Washington; Editing by Saumyadeb Chakrabarty and Bernadette Baum)
euronews provides breaking news articles from reuters as a service to its readers, but does not edit the articles it publishes. Articles appear on euronews.com for a limited time.