BOJ lays some groundwork but still far from stimulus exit - Reuters poll
Comments
By Reuters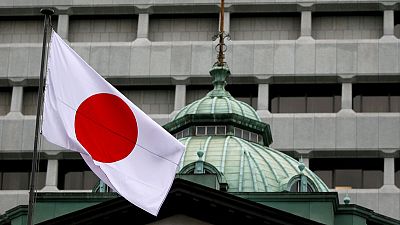 -
By Kaori Kaneko
TOKYO (Reuters) – A third of economists polled by Reuters said the Bank of Japan's steps to make its policy more flexible suggest it is laying the groundwork for an eventual exit from its massive stimulus but most said it won't actually pull the trigger anytime soon.
The BOJ last week pledged to keep interest rates "extremely low" for an extended period while making policy tweaks to buy stocks and bonds more flexibly, including allowing the 10-year government bond yield to move in a slightly wider band around zero percent.
Those steps were aimed at making the BOJ's stimulus more sustainable as it remains far from achieving its 2 percent inflation target even after five years of massive asset buying and ultra-low rates under BOJ Governor Haruhiko Kuroda.
"I don't think the BOJ's flexibility brought the bank a full step forward towards policy normalisation, but perhaps we could say by a third of a step," said Hiroaki Mutou, chief economist at Tokai Tokyo Research Institute.
Mutou was among 12 out of 35 economists who said the central bank's steps brought it closer to crafting an exit strategy — although implementing one remained far off.
In fact, 73 percent of economists who see stimulus unwinding as the BOJ's next step don't expect that to happen until 2020 or later, up from 37 percent last month.
"Since the BOJ's decision did not raise inflation expectations, the timing of its exit strategy will not change," said Hiroshi Ugai, chief economist at JPMorgan Securities Japan, who doesn't see an exit before 2020.
He called the overall impact from the BOJ's policy tweaks on the economy and inflation "almost neutral".
But economists were positive towards the BOJ's decision to let 10-year yields move between minus 0.2 percent and 0.2 percent — double the previous range — as keeping yields in too narrow of a band had been shrinking bond trading.
Twenty-seven of 35 economists said the move on yields would help bond market functioning, while eight disagreed, the poll taken between Aug. 3 and 8 found.
"Functioning in the JGB market will partially improve," said Izuru Kato, chief economist at Totan Research.
"But as long as the BOJ maintains its yield curve control policy, a negative impact from worsening functions in the market will continue."
Elsewhere, economists project the core consumer price index, which excludes fresh food, will rise 0.9 percent in the fiscal year to March 2019, and the same rate the following year — excluding the effects of a planned sales tax increase.
By contrast, the BOJ has forecast CPI to rise 1.1 percent this fiscal year and 1.5 percent next year.
The economy, the world's third largest, is seen growing 1.1 percent this fiscal year and 0.8 percent the following year, the poll showed.
(Polling by Khushboo Mittal and Vivek Mishra; Editing by Chris Gallagher and Sam Holmes)